Ebola scare hits South East over corpse brought in from Liberia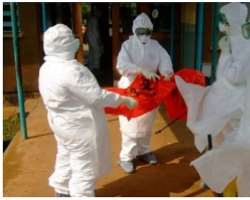 Ebola scare hits South East over corpse brought in from Liberia
Panic is spreading in Anambra State, South-East Nigeria, over fears that the deadly Ebola virus might have reached the state, ChannelsTV reports.
Tension rose when the news spread that the corpse of an indigene of the state had been brought in from Liberia and deposited in a mortuary in Oyi Local Government Area of the state.
The fear is said t have reverberated across the state and other contagious states of Enugu, Abia and Imo.
The report indicates however that it has not been confirmed that the deceased died of the Ebola virus.
Anambra State Commissioner for Health, Jehospahphat Akabuike, confirmed the incident Thursday evening.
She said however, that the mortuary has been cordoned off and all the attendants and workers have been quarantined, pending further tests.
Meanwhile, the Federal Government has reassured Nigerians and other residents that there is no new case of Ebola outbreak in the country.
Addressing a joint news conference in Abuja, Minister of Health, Professor Onyebuchi Chukwu, said that two persons who had primary contact with the late Patrick Sawyer, who died of Ebola virus in Lagos have been quarantined, while 69 others were under close surveillance.
The Minister of Information, Mr Labaran Maku, who also spoke at the news conference said that the Federal Government was doing all it could to ensure that no other case of Ebola is recorded in the country.
Disclaimer:

"The views/contents expressed in this article are the sole responsibility of the author(s) and do not necessarily reflect those of The Nigerian Voice. The Nigerian Voice will not be responsible or liable for any inaccurate or incorrect statements contained in this article."