'OGBA SHOULD FULFIL HIS PROMISES'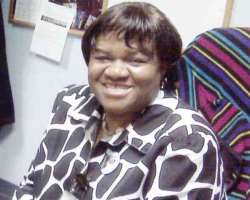 By Yemi Olus
March 25, 2010 02:57AM
Adileen Ohanaja regrets the decision to allow her daughter Jessica, a hurdler, to compete for her country, Nigeria, in 2007.
When Adileen Ohanaja, who is based in the United States of America and her husband Jerome, allowed their daughter Jessica, a hurdler, to compete for her country, Nigeria, in 2007, little did she know that she would regret that decision.
Almost three years down the line, Adileen, a regional manager in Utilization Review Unit, Houston, Texas, is not happy at the way the Athletics Federation of Nigeria (AFN) has treated her daughter, who competes for the Louisiana State University, and other Nigerian-born athletes based outside the shores of the country who heeded the country's call, yet were not appreciated for their efforts.
Not paid a dime
Speaking to NEXTSports from her base in the United States, Ohanaja, who is also a nurse, dietician and counsellor said, "My daughter, Jessica, was born here in the US but she showed interest in running for Nigeria. She was in touch with Pat Itanyi and she has been running for Nigeria since 2007, yet she has never been paid a dime.
"In fact, the last time she came to Nigeria (for the Mobil Track and Field Championships and the Grand Prix), we had to send money to her to bring her back because the position she was in was very uncomfortable. Her name was there to run for the World Championships in Berlin, but she was eventually asked to go home."
Solomon Ogba's empty promises
Ohanaja, who was herself an athlete as far back as 1975, said that due to the non-payment of her daughter's allowances, her husband had to write to the AFN but got no response more than a year after. She also accused AFN President, Solomon Ogba, of making empty promises which he did not fulfil:
"My husband wrote a letter to them, sometimes in 2008, and he copied a lot of people including Patrick Ekeji (Director General of the National Sports Commission), the Secretary of AFN (Maria Worphil), Pat Itanyi, and many other dignitaries but we did not get a response from any of them.
"We met and spoke with the president (Ogba) last year in November, but he has never kept any of his promises. He called my daughter telling her that he was going to send her money in a week's time. That was more than two months ago and we have not heard from him ever since."
Change the present conditions
In spite of all these challenges, Ohanaja says she won't stop her daughter from competing for Nigeria but that the AFN has to improve the conditions under which athletes compete, before she allows Jessica to continue to represent Nigeria.
"No, I won't stop her because that will be showing a bad example, even though I know what the conditions are. I certainly will not stop her from running but they have to improve on a lot of things, like getting a good place for them to stay, and making sure they arrive on time so that they can start practicing on time. You know the time difference and jet lag and they need time to recover. I'm not stopping her; if they change the conditions, certainly she will continue."
Discouraged siblings
Although all her five children are involved in one sport or the other, Ohanaja says her other children are discouraged about the negative treatment meted to their sister and will not want to represent the country in any competition.
Efforts to contact Ogba to get his side of the story proved abortive, but Maria Worphil, AFN's secretary, told NEXTSports that she is a civil servant and therefore, not competent to speak to the media.