SAMSUNG GOES E-READING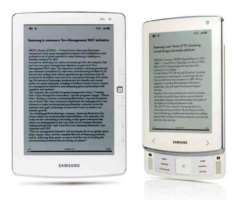 By Adegboyega Laniyan
March 24, 2010 12:32AM
Global electronics giant Samsung, reputed for advanced electronic and mobile gadgets, has expanded its operations to include the production of smart e-book readers.
The Samsung E6 and E101 e-book reader is designed with sleek and portable features to aid easy access to contents while mobile. Both devices, which were unveiled on January 6, offer exciting features for reading, writing and sharing on the go.
'We have used our expertise to create a high-quality e-book with today's on-the-go consumer in mind,' said Young Bae, director of display marketing, Samsung Information Division. 'Samsung is addressing a common frustration that uses experience with many of today's digital readers with a stylus that allows them annotate their favourite works or take notes. Coupled with wireless functionality that enables sharing of contents; this is a truly multifaceted device.'
Design
The Samsung E6 and E101 e-book reader have similar model with Samsung mobile phones, especially with its slide-out features.
The Samsung E6 e-book reader is designed with a six-inch E-ink display while the Samsung E101, which is the larger model, features a larger 10-inch E-ink display. Display of functions in both devices comes with touch screen abilities and has a 600 x 800 pixel resolution. Contents in both devices are displayed only in 'black and white'. They also offer eight shades of greyscale.
Both devices have 2GB internal memory, which Samsung says can store up to 1500 books, and micro SD external memory card slot for additional storage capacity.
Other features of the device are a slide-down control panel, which comprises menu and navigation buttons for browsing. It also comes with an Mp3 player for fun music, head phone jacks to support headphones and two internal speakers and one front facing speaker.
Unique features
Samsung has put in some features that are not present in other e-book readers. For instance, the devices enable hand writing capabilities, which can be done directly on the display via a dedicated stylus pen attached to them. Users can also annotate their reading selections, calendars and menu list. In addition both devices have accessories like an eraser for cleaning while drawing on the display.
Users can also download and share documents through Wi-Fi and in-built Bluetooth. Documents like e-books, e-newspapers can be downloaded on the e-reader's 802.11b/g.
Unlike many e-book readers, the Samsung e-books consume less power, due to the absence of a backlit display known for high power consumption. The display reflects light naturally, allowing users to read more naturally.
Documents, data and e-books on a wide range of formats like EPUB, PDF and TXT can be opened and displayed on the Samsung E6 and E101 e-book readers. Visuals are also compatible in BMP or Jpeg formats.
The price for the Samsung E6 model is $399 (N59, 850) and Samsung E101 model is $699 (N104, 850). But there is no word yet on a release date for both devices.