Peter Okoye Leaves His Wife Lola Out Of The Family Circle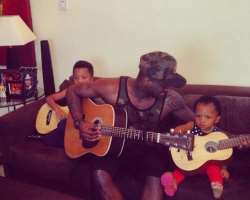 This is weekend and it is just the perfect time for a family to spend quality time together. P-square's Peter Okoye is indeed a man that creates time for his family, especially his kids.
Few weeks back, the father bought a toy jeep car for his son, after some days he posted a picture of him and his son skating. The happy father and husband have just gotten himself and his two lovely kids Cameron and Aliona brand new guitars.
He is teaching his lovely kids how to play the guitar from a very young age. He bought three guitars, one for himself, one for his son Cameron and then a smaller one for his daughter, Aliona. He didn't buy for his wife, Lola Omotayo-Okoye because she has nails fixed. See what he wrote explaining why he didn't buy for Lola.
'if she has to play, she'll need to cut off her nails' he says.