Jonathan appoints FRSC boss, Chidoka, as minister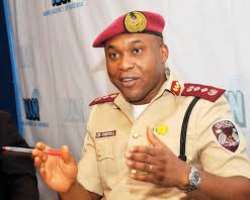 Jonathan appoints FRSC boss, Chidoka, as minister
President Goodluck Jonathan on Thursday named the Corps Marshall, Federal Road Safety Commission (FRSC), Osita Benjamin Chidoka and a Political Science Lecturer at the University of  Abuja, Dr Sulaiman Olanrewaju Abubakar, as minister designates.
Their names have been transmitted to the Senate for screening and confirmation.
Chidoka and Abubakar are from Anambra and Kwara states respectively.
The President, in another letter, also sought the confirmation of the Acting Director General, Nigeria Pension Commission (PENCOM), Mrs Chinelo Anohu-Amazu as substantive chief executive while  Mr Ebenezer Foby was nominated as a Federal  Commissioner in the Commission representing South-South .
Screening and confirmation of the nominees may take place next Wednesday  before the Senate embarks on its yearly long recess.
Corps Marshal Chidoka  is expected to occupy the slot for the state which has remained vacant since the exit of the former Minister of Aviation, Princess Stella Oduah, while  Dr. Abubakar may likely be assigned to head the National Planning Commission.
Chidoka who has discharged himself creditably as the chief executive of FRSC is expected to assigned to the post of Aviation Minister, which has been vacant since Oduah relinquished the position following controversies over the purchase of two bullet proof cars for N255 million.