One-on-one...with Anason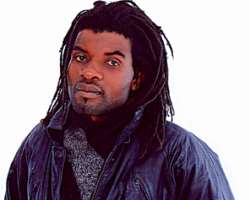 Orifayo Anasifayo (aka Anason) relocated to Lagos from Bauchi as result of the crisis in the state in 1991 to pursue his childhood dream — music. The reggae artiste from Ugboshi-Ele, Edo State, is set to launch his debut album titled Okada Man. He speaks with DANIEL ANAZIA.
How did you get into music?
Music runs in my family. My father is a musician, but not a professional. I have been in music for over 20 years. I was with the Police Band, Ikeja, Lagos, before I moved to Bauchi, however, I had to relocate as a result of the 1991 crisis in the state.
Why music?
Music is life, without it, life will be boring. Music rejuvenates soul and helps keep the spirit alive, especially philosophical ones such as reggae, afro-beat and highlife.
What's your genre of music?
I play reggae with a fusion of afro-beat. At a time, I was doing highlife, but switched because of its deep philosophy and rhythms. It enables you pass messages to people and edifies the mind.
Why Reggae?
Reggae artistes are like prophets, they tell the future, using present happenings. Bob Marley, Peter Tosh, Lucky Dube and Majek Fashek others are still relevant to the society. Their music is evergreen because of their messages. The music enables one to think deep.
With your album, what messages are you trying to pass on?
The eight track-album is loaded with words of exhortation to both elders and youths. Parents should take care of the children, train them to be useful to themselves and the society and never to be a problem to anyone. Youths on the other hand, should listen to the elders and their parents, accept their godly counsels to become better persons in life. Okada man is one of such tracks. It talks about the safety of the riders; and why they don't need to be reckless on the highway.
Influence
Bob Marley, Lucky Dube, Majek Fashek and Peter Tosh. The music of Fela Anikulapo-Kuti also gives me great inspiration.
Performance so far
Though, I am yet to feature in any big event, I strongly believe with my album launch, concerts and tours will come knocking for me.
When is the album hitting the shelf?
Hopefully July, when all would have been set.
How would you like to be remembered?
Like the Catholic Nun, Mother Theresa, I want to very close to the poor and down trodden.
What's your philosophy of life?
Live for mankind.
Story by nollywoodgists.com