ALICE IN WONDERLAND STILL TOP DRAW AT US CINEMAS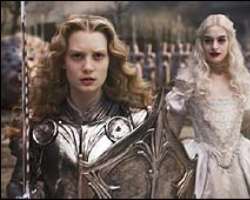 Mia Wasikowska (left) plays the lead role in Tim Burton's 3D fantasy
Tim Burton's Alice in Wonderland is still the number one film in the US and Canada, topping the North American box office chart for the third week.
The fantasy took $34.5m (£23m) in its third weekend on release, swelling its overall US takings to $265.8m (£179m).
Its nearest rival was family film Diary of a Wimpy Kid, which opened in second place with a $21.8m (£14.5m) tally.
That put it ahead of comedy The Bounty Hunter, whose $21m (£14m) takings won it third spot in this week's chart.
Distributor Sony said it was happy with the performance of the film, which stars former Friends actress Jennifer Aniston and Scottish actor Gerard Butler.
Rival studio Universal, however, is likely to be disappointed by the fourth place opening of its futuristic action thriller Repo Men.
Starring Jude Law and Forest Whitaker, the film – set in a future where transplanted organs are repossessed if patients miss their payments – opened in fourth place with a debut weekend haul of $6.2m (£4.1m).
Alice in Wonderland's continued appeal is unusual for this time of year, according to box office analyst Paul Dergarabedian of Hollywood.com.
"Normally at this time of year, films don't make this kind of money and they don't hold in this long," he said.
Burton's film, though, is sure to face stiffer competition this weekend when another 3D release, the DreamWorks animation How to Train Your Dragon, hits cinemas.