FG seeks Chinese partnership for national carrier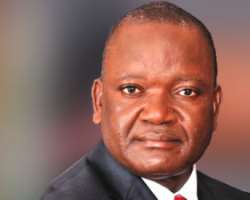 The Federal Government on Tuesday asked investors from China to partner Nigeria in floating a national carrier for the country.
According to the government, Nigeria being the largest economy in Africa should have a national carrier.
The Supervising Minister of Aviation, Dr. Samuel Ortom, disclosed this when he received a Chinese delegation at the headquarters of the Federal Ministry of Aviation in Abuja.
The Chinese delegation was led by the Director-General, China Development Bank, Wang Wensong, who was accompanied by experts from China Academy of Civil Aviation, Science and Technology.
Ortom told the delegation that there were so many opportunities in Nigeria's aviation sector, adding that 'I would not mind suggesting to you that we can go into partnership to float a national carrier which we don't have currently.
He added, 'You will agree with me that we need a national carrier as a country. The most populous country on the continent of Africa and of course based on our recently rebased figure, we are the richest country on the soil of Africa.
'So, there is no reason we should not have a national carrier. We are seeking partnership where we can get good partners who are ready to work with us to establish a national carrier and there is nothing wrong with that.'
He said the Federal Government was exploring opportunities inherent in the sector, adding that this was the reason why aviation experts from China and the China Development Bank were in Nigeria.
'At the end, they are going to make their own recommendation but we have just had preliminary discussions today,' he said.
The minister said the government was going to get experts in the sector to sit with the Chinese team to work out details on how best 'we can come out with a programme that will usher us into a very sustainable and stable aviation industry.'
Ortom said, 'We shall need encouragement in investing in the aviation sector and also in human capacity building so that we can meet international standard.'
He noted that the Chinese delegation was expected to go into a special technical session with Nigerian aviation experts on Thursday to outline areas of interest for Nigeria.
'China Development Bank will be glad to assist us in the Nigerian aviation sector. Just indicate your interest and we will be ready to support you. We are willing to listen and know your area of interest,' Ortom said.