U.S. Special Representative for the Central African Republic W. Stuart Symington Travel to Bangui, Central African Republic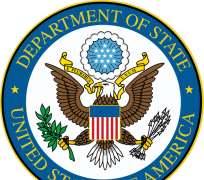 WASHINGTON, June 22, 2014/African Press Organization (APO)/ -- Media Note
Office of the Spokesperson
Washington, DC
June 21, 2014
U.S. Special Representative for the Central African Republic W. Stuart Symington travelled to Bangui, Central African Republic, from June 17-21. Special Representative Symington's visit to the Central African Republic reflects the U.S. government's continued high-level commitment to restoring stability and security for the people of the Central African Republic, while promoting accountability, reconciliation, and democratic governance.
During his stay in Bangui, Special Representative Symington consulted closely with officials from the transitional government and the Transitional National Council of the Central African Republic, the United Nations, the African Union, the European Union, and other international partners, as well as with Central African civil society and religious leaders. He also met with officials from the African-led International Support Mission to the Central African Republic (MISCA) and the United Nations Multidimensional Integrated Stabilization Mission in the Central African Republic (MINUSCA).
In his conversations during his visit with both officials and ordinary Central Africans, Special Representative Symington was impressed by their deep desire for peace, security, and reconciliation. The United States remains committed to helping the people of the Central African Republic reach these goals.
The United States has committed up to $100 million to support MISCA and French forces with airlift and equipment, including vehicles, personal protective gear, medical supplies, and construction goods. In addition, the United States has provided nearly $67 million this fiscal year to humanitarian assistance for conflict-affected persons, vulnerable migrants, and refugees in the Central African Republic and in neighboring countries.
The United States suspended operations at its embassy in Bangui in December 2012 but expects to resume operations as soon as security conditions permit.