Gunmen kill 25 at Borno village market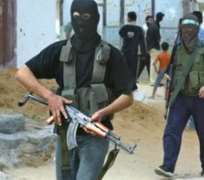 At least 25 people were killed Sunday when suspected
Boko Haram insurgents raided a village market in southern part of Borno state on Sunday killing and wounding several people.
Reports put the dead at more than 25, while the wounded runs into scores.
Gunmen numbering about 20 decked in military camouflage drove into Daku village at about 11am , went into the market and shot sporadically at traders.
According to eyewitness accounts, the gunmen came in a Toyota Hilux vehicle, and motorcycles.
As survivors in the attacked scampered away, the insurgents looted food items after killing and setting houses on fire.
They started shooting at people in the market, we didn't know why, it was later some people started shouting that Boko Haram has come, Boko Haram has come, that we all began to run; I can't say how many people died, but many fell down because of gun injury while we were fleeing," a resident of Daku Ijaya Naaba told reporters by telephone on Sunday.
Meanwhile, a member of the Nigeria Vigilante Group in Maiduguri, Muhammed Gava, who spoke based on reports he got from Askira Uba, revealed that "they actually targeted food and other supplies during the attack; but they also shot at the people sporadically which led to the death of about 25 people and injuring many others, according to the reports our vigilante personnel who later went to the market" .
As the political equation in Nigeria ahead of 2015 general elections begins to shape up, there are indications that there might be reverse traffic from All Progressives Congress (APC) to Peoples Party (PDP).
THE RAINBOW learnt that many APC faithfuls are disenchanted by recent developments in the party, which they believe are ominous signs of what to come.
Some of those who believe that they were shortchanged in the weekend's convention are said to be considering all option.
Besides, crisis in APC in some states such as Ogun, Kano and Imo are said to have set some of the party members looking a safer berth.
It will be recalled that one of the APC leaders in the country, Femi Fani-Kayode, returned back to the PDP.
There are also reports that the former governor of Ogun State, Chief Segun Osaba, is being wooed by the PDP to come over to its ship.
It was further learnt that some other big fishes in the opposing party are mulling to jump ship.