Abuja markets shut over Boko Haram's bomb threat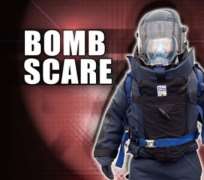 There was a lockdown of markets in Abuja on Tuesday following intelligence reports that they may be bombed by suspected Boko Haram terrorists.
Security agents shut down the three major markets in the city, Wuse,Utako and Garki- and combed  them with electronic scanners for almost three hours, but nothing suspicious was found in the markets. Our correspondents gathered that security agents had got wind of plans by some criminal elements to plant Improvised Explosive Devices in the markets and promptly moved to pre-empt the plot by shutting down the facilities for proper security checks.
Findings showed that the three markets are usually crowded with shoppers and they presented an attractive targets to terrorists which security agencies are aware of.
One of our correspondent who visited the Garki market was told by the private security guards on duty that nothing suspicious was found in the expansive shopping centre.
The guard who did not give his name, explained that the security operatives came early in the morning and prevented the market from opening until they had carried out a thorough search.
The Secretary, Garki Modern Market Association, Abubakar Moriti, said he was called by his chairman that the market would not open on time because there would be a security check in the market.
'My Chairman called me around 6.25am that the market would not be opened on time because there was a report  that Boko Haram members are in Abuja and were planning to bomb Abuja markets. When I got to the market around 7am, I found some people at the gate who asked me why the market was not opened and I explained to them. The market was eventually opened around 9am,' he explained.
When contacted, the FCT Police Public Relations Officer, Altine Daniel, described the lockdown of the markets as a routine security check.
She said, 'It was a routine security check carried out by sweeping the markets by our men to safeguard the people. No bomb scare anywhere in Abuja.'
Also speaking on the development on Focus Nigeria Programme on AIT, the Director, Defence Information, Maj. Gen. Chris Olukolade said every effort was being made to protect the citizenry from terrorist attacks.
He said, 'Well every effort must be made. It is only confirming to Nigerians that the security agencies are not sleeping. Like I mentioned earlier, no information would be ignored. We must be satisfied that the threat that led to such a search or such an effort is no more there before we let go of it. The ultimate is the safety of everybody and where there is need to explain the consequence, we will, and may be, we should await that shortly.' Punch