Rivers 2015: We've Not Endorsed Any Candidate—Ndigbo Barks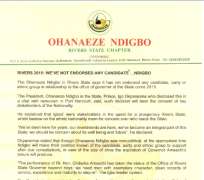 The Ohanaeze Ndigbo in Rivers State says it has not endorsed any candidate, party or ethnic group in relationship to the office of governor of the State come 2015.
The President, Ohanaeze Ndigbo in the State, Prince, Igo Okparanma who disclosed this in a chat with newsmen in Port Harcourt, said, such decision will bear the consent of key stakeholders of the Nationality.
He explained that Igbos' were stakeholders in the quest for a prosperous Rivers State, which bestow on the ethnic nationality room for concern over who leads the State.
'We've been here for years, our investments are here, we've become an integral part of this State; we should be concern about its well being and future'. He declared.
Okparanma stated that though Ohanaeze Ndigbo was non-political, at the appropriate time Ndigbo will make their position known of the candidate, party and ethnic group to support after due consultations, in view of the size of shoe the expiration of Governor Amaechi's tenure will produce.
'The performance of Rt. Hon. Chibuike Amaechi has taken the status of the Office of Rivers State Governor beyond boys; we need men with exemplary character, clean records of service, experience and maturity to step-in'. The Igbo leader opined.
The President commended the Governor for granting non indigenes input in the affairs of his administration, which according to him has reawakened their sense of belonging and contributions to the development of the State.
He said, 'Non-indigenes are members of the Amaechi's administration at all level, including the recently constituted local government caretaker committees; these developments further strengthen our commitments to the growth of Rivers State'.
Okparanma urged Igbo leaders in the State to be cautious in their approach and utterances on political issues particularly now that political drums are beating, saying, the people will stand by a tested character with clear chart to consolidate on the achievements of Governor Amaechi.
Signed:

PRINCE, IGO OKPARANMA
President, Ohanaeze Ndigbo
Rivers State Chapter
June 4, 2014
2014-06-04 161804