MY 11 YEAR OLD DAUGHTER CAN FIRE A GUN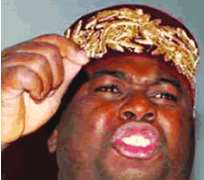 Dokubo
Leader of the Niger Delta Peoples Volunteer Force (NDPVF) and Peoples Salvation Front (PSF), Alhaji Mujahid Dokubo-Asari, virtually stole the show at the recent Niger Delta Peace Consolidation Conference held at The Hague, Netherlands. The conference was organized by the Rotterdam-based Hope for Niger Delta Campaign (HNDC), which was founded in 2005 by a Nigerian immigrant, Comrade Sunny Ofehe, an Isoko from Delta State.
Dokubo-Asari actually became the cynosure of attention particularly in the local media and among the Dutch people, who were albeit disappointed that their embassy in Nigeria, purportedly acting on a directive from the Nigerian government, refused to grant visas to some of the ex-militants invited to the talks like Victor Ben Ebikabowei (aka Boyloaf) and Ezekiel Akpasibowei of the deadly Niger Delta Underdogs. Those who had looked forward to this meeting, therefore, grabbed the opportunity of Dokubo-Asari's presence to hear first hand, perhaps, the real reasons for the insurgency in the Niger Delta. And in their estimation, the NDPVF leader did not disappoint.
During an interface with journalists from Nigeria and the local media, the warlord left no one in doubt that his position on the way forward for the crisis-wearied oil producing region in Nigeria was diametrically different from that of other panelists at the session. For instance, while president of the Ijaw Youth Council Worldwide, Dr Chris Ekiyor, and human rights lawyer, Mr Festus Keyamo, subscribed to dialogue and the pacifist approach to resolve the Niger Delta debacle, the NDPVF leader maintained that the force of arms was the language those he described as oppressors understood.
Dokubo-Asari, a Kalabari prince from Buguma community in Rivers State, was arrested in 2005 by former President Olusegun Obasanjo after a visit to the presidential villa in Abuja and was tried for treason until 2007 when he got a reprieve. But by this time, the seed of rebellion in the region had grown into a monster, producing armed groups that eventually culminated in the emergence of the dreaded Movement for the Emancipation of the Niger Delta (MEND). Last year, Dokubo-Asari went on self-exile from Nigeria and has in the last eight months stayed away from the country, claiming his life was no longer safe.
Regardless, the unrepentant and unapologetic son of a retired High Court Judge vows he would never renounce armed struggle, and has indeed begun grooming his children in the art of handling weapons.
I've rejected Nigeria
I have gone beyond a certain stage in this struggle. As a Muslim, you migrate from the land of oppression to the land of freedom. I have migrated from Nigeria; I have rejected everything that is Nigeria. I do not spend Nigerian money. I do not go to a place called Nigeria. I do not go there because, as far as I am concerned, peace can only come when the other man is ready.
Danjuma's oil money
The question is, sincerely in our heart of hearts, does the man on the opposite side believe in peace? We have to be realistic. We don't have to be jumping in the air and flying; we don't have wings. I will give an example. There is one fellow who calls himself Theophilus Danjuma. He said the Nigerian National Petroleum Corporation gave him a piece of paper and he made one billion dollars. And he said, 'What am I going to do with one billion dollars?' This is my money and the money that belongs to my people. That is, the Niger Delta people. But one man from another part of the country was bold enough to say they gave him a piece of paper and he made one billion dollar.
Those of you on this panel; for instance, Festus (Keyamo), is from where oil is produced and they have not given him one million dollars. Sunny (Ofehe) has not been given, and my brother, (Chris) Ekiyor, has also not been given. In your heart of hearts, is it fair that a man comes and says I was given a piece of paper and I made one billion dollars? He didn't do any work. He didn't come here to face the cold weather. He didn't do anything and they just gave him a piece of paper.
Let us not be apologetic. Let us not be condescending and let us not say rankadede to them any longer. If you don't bend your back, nobody can ride on you and we should never allow them to ride on us.
Enemies of Niger Delta must leave
We are talking about blood oil. Ken Saro-Wiwa and others were murdered for our oil. Anybody who takes our oil is an enemy. The only way they can contribute is to leave. As long as they continue to back the occupation by the Nigerian government, these multinational oil companies are enemy combatants and if they are caught in the line of fire, they will be killed. They will not be spared.
I'm not talking on behalf of Chris, Festus or Sunny. The views of the Niger Delta Peoples Volunteer Force are very clear. We are going back to armed struggle and anybody who is caught in the line of fire will be treated as an enemy combatant, whether an American or Dutch. There are no two ways about that. Nobody can enslave and cause me pain in my land, destroy my land and continue to ask me to accept peace with my hands bound behind my back, with a gun pointed at my head. I will never accept that peace. I will fight until I get victory and place freedom on the palms of my people or I die.
We'll continue to defend Niger Delta against foreign invasion
Those who collaborated with Hitler are still being tried till today. So, why should the Dutch government allow Shell to come and collaborate with people who destroy our environment, murder our people, and commit genocide in Odi and Gbaramatu? The process of genocide and pogrom continues in our land. I will not do rankadede for them; I will not condescend to them and I will not be apologetic. I will continue to speak and I will continue to fight. It is not a threat. I did not ask an American to come to my land. If you come to my land or my house and I say leave peacefully and you refuse, no be war you come to fight? I go defend myself now. For 50 years, they have been in our land. Like the locust, they have devoured our land and laid it waste. We will not continue to accept it.
Like I said, I'm not speaking for Ijaw people neither am I speaking for the Niger Delta people. I am speaking for Niger Delta Peoples Volunteer Force and the Joint Revolutionary Council of Niger Delta. These are organizations I reached an agreement with. From this moment, you will hear from us. And it will not be news that you will like. I'm very sorry but the only way peace can come, like I said earlier, is mutual respect for each other. Let us sit down and discuss and say, look, you don't want to be with me, okay let Ijaw people decide.
For instance, Keyamo is my counsel. He has been very good to me but we don't share the same views. That is the beauty of this struggle. We have mutual respect for each other. Those who want peace, if they can arrive at the place we are going to without shedding of blood, they are better placed. But if the enemy refuses to listen, I believe the enemy has flesh and I have flesh. He has blood flowing in his veins like I have in my veins. He has bones that form the structure of his body and I have bones. He has a life and I have a life. If he shoots me, I can die. And if I shoot him, he can also die. He is not a superhuman, so there is no way I will be afraid of him.
Why I'm on exile
All revolutionaries, in accordance with the revolutionary tradition, move from the land of oppression to where they can be free to articulate their views and mobilize their people for the final assault. And that is the path I have taken. (Nelson) Mandela, Fidel Castro followed that path, and all the known revolutionaries did. That is the path I have chosen to follow and I am not ashamed of it.
The Nigerian government has its security agents everywhere. I have been harassed at every airport I have stopped but I don't give a damn about it. I believe that freedom will come, that one gunshot is worthier than a million years of sermonisation. That is what I believe in and that is what I stand on. I will never be deceived.
I did not leave my family and my people to go into exile. Nobody likes exile; I did not go to Europe. I was in Africa. I have European visa. I can go anywhere in Europe but I chose to remain in Africa because I feel I must be there so that people would not speculate that Alhaji is enjoying somewhere.
So, what we are saying is that peace can only come when (President Umaru) Yar'Adua wants peace. Peace can only come when Turai Yar'Adua wants peace. Peace can only come when Yakubu Tanimu wants peace. Peace cannot come when (Acting President Goodluck) Jonathan alone, Dokubo Asari alone or Chris Ekiyor alone is shouting for peace.
My daughter can shoot and my children don't recite Nigerian anthem or pledge
For me, peace is better than war. I cannot run away; I am not trying to please anybody. I have 16 children and I want them to be peaceful. My daughter who is 11 years can shoot a gun. She has a brown belt in martial art; she can shoot. My son who is 11 years will never recite the Nigerian anthem or pledge; he will never do it. The reason is very clear. The man who is suppressing us doesn't want peace, and you know that truly he doesn't want peace. If he wants peace and he comes to the table and says, 'I want peace,' that is when we can meaningfully discuss. But the man will always stand up and say, I will kill you if you don't agree. And I say to him, go to hell, you cannot kill me. That is where we are now.
Obasanjo tricked me
I am not a member of MEND and I will not speak for MEND. Having said that, let me say that we are not choosing violence. Rather we are resisting violence; we are resisting degradation. They have the power, we don't have. If you say violence, how can you fight the man who has the Army, Air Force, Navy, everything? And you just have about 20 to 30 people and you go and fight him.
The thing is that every self-respecting human being would say, my friend, you are a human being and I'm a human being, let us live in peace. But if the other man said, no, you must always serve me, whether we like it or not, we can pretend but when we go into our house, we express the same view; in our closets we express the same view. The truth must be told, that is it.
I will prefer peace if somebody comes today with that idea. Obasanjo said he wanted peace, he sent a plane to me and I left the creeks, nobody forced me. The day I was leaving the creeks, there was a struggle in my camp. My subordinates who didn't want me to go would have killed me. My Thuraya phone was broken because they said I must not go to Abuja. I went to Abuja wearing bathroom slippers and I arrived in the middle of the night. Obasanjo said he had accepted peace and I handed over my arms to him. At the end of the day, he arrested me and put me in underground solitary confinement for 22 months. Is that the peace you want?