Sack Jude Ejiogu Now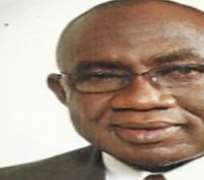 The Youths Against Human Rights Violation And Corrupt Practices ( YAHVCP ) have read the paid advertorials in 8 local newspapers in Imo State by some political sycophants sponsored by the LGA pension thief Jude Ejiogu dated 2/6/14 branding Kenneth Uwadi all sorts of unprintable names for calling for his sack, arrest and prosecution for stealing 1 billion naira Imo LGA pension funds when he (Ejiogu) was the Chairman of Imo Local Government Service Commission. Ejiogu is currently serving as the Chief of Staff to the Imo State Governor as well as Commissioner for Special Duties in the State.
For us at YAHVCP, despite all harassment, name calling and victimization by the thieving political vampires in Imo State, we will remain undaunted. We will continue to tell those in government to stop looting our monies and to stop mocking us and calling us paupers and never do wells.
YAHVCP is angry that despite enormous human and material potentials, Imo's crisis of poverty in the midst of plenty continues apace. Vicious attacks on living conditions, wages and social services have reduced the mass majority of Imolites to a state of perpetual misery. According to statistics, about 70% of Imo estimated population exist on less than 6oo naira per day yet only one man (Ejiogu) has stolen 1 billion naira meant for LGA retirees in Imo and no one is talking.
The same capitalist thieving elite also looted the collective wealth of the state without remorse, millions of naira tax monies when he was Special Adviser to the Governor on IGR. This made banks to go on strike in the state. The corruption scandal he was involved in when he was a banker underlines his rapacious corrupt character . He allegedly defrauded Hall Mark bank and Progress bank years ago and ran to USA.
Our anger at YAHVCP has particularly been fuelled by the continued wanton disregard of the ruling elites in Imo State for the feelings, yearnings and aspirations of the ordinary Imolites such that while, they, the ruling elites continue to amass fabulous wealth for themselves, albeit through, stolen public resources, the majority of the people of Imo State continue to live in abject poverty while joblessness continue to rise. Although, the official unemployment rate in Imo State has been put at 53.9 percent, it could be much higher given the thousands of job seeking graduates roaming the streets of Owerri apart from those who lost their jobs in 2011 to unnecessary politicking .
So contemptuous of the toiling Imo masses have the capitalist thieving elites in the state become, that their self-indulgencies now include using state resources to acquire eye popping mansions all over , while failing woefully to provide functional mass transportation in the form of modern and fast rail network, dual carriage ways and ferry systems. When late last year, there were major floods in the state due to heavy torrential rains, thousands of Imolites were stranded as most of the poorly constructed roads were simply swept away.
This is aside from many, whose shelters, properties, farmlands etc were washed away by the floods without compensation. Yet, during the recent 3 year celebration speech of Governor Okorocha we heard that billions of naira road contracts were awarded for the fixing of Imo roads. Yet, the more you look at the roads, the less you see the evidence of a functional infrastructure.
We say NO to Ejiogu's callous looting of 1 billion naira pension funds and inhuman treatment of pensioners . YAHVCP is angry that Instead of paying pensioners their due, the pension fund has become a slush fund for government officials to loot and for some thieving vampires in the state to gamble with. Many pensioners have died after years of waiting for their pensions. Those that were paid little, the amount was not enough to sustain them.
Despite this, the government owe several types of arrears to LGA pensioners. In this same Imo State where poor men and women are locked up in prison for many years for committing small criminal offences, a pension thief who stole 1 billion naira pension funds is rewarded with political appointment upon political appointment in the state.We demand for his arrest and prosecution now
Signed....

Mr Kenneth Uwadi

YAHVCP National Coordinator

Amaka Didanda

YAHVCP Media Affairs