IGBO EKUNNIE!!!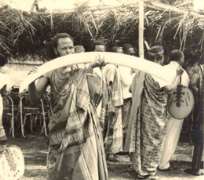 [Igbo Ekunnie ,a child of necessity ,a child born with pure love for the people, a child on igbo diasporian enlightenment mission]

The clarion call for igbo to be awake
The quest for Ndi Igbo to emancipate self from democratic slavery.
The time is here ,time for Ndi igbo to write her own Political path ,thread political road map and to write self into political relevance.
Nigeria is a TRIPOD NATION, currently a leg of that Tripod is at the verge of breaking off due to overweight, despite the glaring fact that it is that leg that is carrying the entire body weight. It is time to look at the lopsided stand of the Tripod and give it a fair balanced stage for the weight to be equaled .
Ndi igbo is the second most populous beside the indigene of any state ,it simply means that every state in Nigeria has more Igbo residents than every other Tribe or Ethnic group.
The Irony is that in all those states ,Ndi igbo are still been treated like nonentity ,without respect or regard .Whereas if Ndi igbo should weld her numerical strength to political statement ,it will amount to Ndi igbo producing Deputy Governor's,Senators,Members of the house of Rep ,members of the state house of Assembly ,local government chairmen,commissioners for many states or least they become a beautiful bride in politics with POLITICAL JUICY CHOICES THAT WILL PROTECT THE INTEREST OF NDI IGBO IN DIASPORA .
Ndi igbo should stop playing OGBASARAM KIND OF POLITICS ,n'ihi na onye na aracharo onu ya ,uguru aracha ya.
Nobody can you what is due to you just because you kept silent ,if you want to get what is yours ,you have to ask for it and go and demand for it ,then grab it .
Gone are the days we say "oji ife nwata welie aka elu,ike gwu ya ,onye nwata ife ya" this days when that suspended hand get's tired they exchange it with another hand that is standing by and round and round it goes,until the child decides to jump and shout ,then cry with strenght.
In every state in Nigeria ,60% of choice properties are Igbo properties,it is only Ndi igbo that turn SWAMP into Estate,dessert into Orchard,Evil forest into Garden of love ,yet we do not have a say in any state that we contribute over 60% of the IGR [internal Generated Revenue],is that not comical to say the least ?.
Why is it so ? ,it is simply because we do not understand what powers lies behind our VOTES ,when we register to vote and also voted for a candidate ,it simply changes the trend of things in our favor.Why must we continue wasting our percentages ? why must we always give out our plus and stay in minus ?
Ndi Igbo the time has come ,the hour is here and Igbo ekunnie has risen to help and MOSES Ndi igbo out of that bondage.
Igbo Ekunnie is here to preach the gospel of exercising our VOTING RIGHTS,making our Voices to be heard through the ballot boxes. Making our Host to understand that we have the strength to make any politician a winner !!!! AND we are no longer shy to use it.
UMUIGBO anyi na asi ,ka anyi jisie ike welu tinye afa anyi na akwukwo NDI INEC nke onye obula tozuru etozu ,nke onye obula rugoro afo iri na asato ,onye obula choro ka umuigbo ghara zi ibu ife eji egwuri egwu,,onye obuna choro odi nma ndi igbo ,kaba aru denye afa gi na INEC REGISTER and get ready to vote in subsequent elections ,the time has come for us to speak with one voice , one mind and that will enable us posses our possession or protect our possession where ever it might be sighted .
To register with INEC and obtain Voters Card is a MUST for every Nwa afo igbo ,we crave your understanding and employ you to help us reach out to Ndi igbo especially those living in Lagos ,preach to them the gospel of getting involve in using our VOTES TO SHAPE OUR FUTURE.
The days of political I DON,T CARE has gone ,today we have to stand up and show that we can decide how our lives are been run,how policies are fashioned ,how our business and properties are viewed ,,,all this shrouded behind POLITICAL STRENGTH ,we can no longer sit down and allow other people,race,ethnic group and tribe decide for us and always we got the wrong end of the deal.
Today if we change the trend ,our rights shall be respected and any decision taking that will affect us must be discussed with NDI IGBO and our interest protected that is if we do not have our people at the Table of that decision deliberations.
OUR FAITH CAN NO LONGER BE LEFT WITH THOSE WHO CARE LESS IF WE LIVE OR DIE.IT WILL BE OUR DUTIES TO STAND AND BE COUNTED.
To join an affiliate of IGBO EKUNNIE and make this movement a grass rooted one ,call PUBLICITY SECRETARY ON 08151750488 Ben, 0806 024 9117 Innocent for direction on how to join IGBO EKUNNIE PROJECT which is in your WARD OR LOCALITY.
Disclaimer:

"The views/contents expressed in this article are the sole responsibility of

Mazi Oderaigbo

and do not necessarily reflect those of The Nigerian Voice. The Nigerian Voice will not be responsible or liable for any inaccurate or incorrect statements contained in this article."
Articles by Mazi Oderaigbo