I don't have anything to prove -Yobo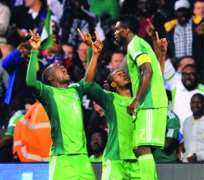 Joseph Yobo's return to the Super Eagles became phenomenal when he featured against Scotland in a pre-World Cup friendly during the week. Collins Udoh however, broke Yobo's silence for the first time since his recall to the Super Eagles, where he spoke about what it means to be back, whether he will accept a substitute role and what it would mean to win 100 caps.
What does it feel like to be back in the super eagles?
It feels good. I've been away for a while. It was like a family when I left, we had just won the African Nations Cup and it's still the same now. I enjoyed the welcome and the lads looked like they were very happy to have me. The atmosphere was good, at training the team spirit is wonderful. It felt like I never went away, even though I've been out for quite a while. This is a team that I helped build so it's like a second family.
There are those who say your time is past and you should not be here. do you feel like you have something to prove to them?
No, I don't have anything to prove to nobody. Critics are always going to be critics. I don't owe anybody anything. I've only said one thing and that is that I thank my bosses for believing in me, for believing that I can still do this and this is very important for me. I played until the second phase of the season until I got injured. I only need to prove something to myself. I have nothing to prove to them. This is my career and I know what I need to do to be at the top.
I'm just thankful to the coach for believing in me, and I'm going to reciprocate that by what I do on the training pitch and on the Match Day to help this team.
But for people out there, I have nothing to prove to them. I respect everyone's opinion but at this moment, I just want to concentrate on this team that I left after the Nations Cup. When the time is right, I will respond to everyone.
Since you have been gone, kenneth Omeruo and Godfrey Oboabona have formed a strong partnership. Would you be happy to watch them continue or you will want to fight to get one of those spots back?
Honestly, I have no answer to that. The coach will decide. I'm not fighting with anybody for a position or anything like that. If you look at my position and my pedigree, I think I should be above that.
The coaches will be in a better position to answer that. I'm only here to take things from where I stopped and see how I can use my leadership and experience to move this team forward and achieve something great. If I'm called upon to do a job, of course I will. It is my career.
I went from not playing for four or five months with Fenerbahce after my knee injury to walking straight into the Norwich City team for a big game like Manchester City.
I think I've shown what I can do, and I don't have to fight with anybody. My bosses are the ones who have the decision to make and I believe they will do what is best.
But I'm here as a captain and a leader and I'll give my best.
Do you see this group as one that nigeria can qualify from?
Anything is possible. You always look at the games you have and think one is easier than the other. But realistically, every game is difficult and as important as the rest.
We have to play Iran and Bosnia before we play Argentina. Hopefully, we can win two games and Argentina becomes a little easier. But if we don't, then it becomes very difficult. That's why every game is important, every game is difficult and we have to treat each one as our own World Cup final and try to get a result.
How difficult were scotland?
It was tough. I always say when it comes to friendly games, people should not read too much meaning into it. It's just a preparation game, getting used to the team again especially for those who have not been there for a while just to help us prepare for the World Cup.
After the disappointment of the last world cup, do you think this is the year an african team will strike it big?
I believe so. That an African team is going to pull a surprise and do better than we have done in the last but every other nation has the same opportunity. It all depends on how well you prepare and how well you go about it. My experience has taught me that the earlier you get results, the better. At the Nations Cup, we didn't start well but we started picking up and the confidence started building. So if you go through the group, it brings a lot of confidence and anything is possible after that. Looking at the Nigerian team, I see a lot of talent. We are the African champions and we are not scared. We respect every nation we are going to play against, but it's one game at a time.
For you, this would be your third world cup. What would be a successful world cup for you?
It would be great. Have been around for a while, most called player, played so many games, won the Nations cup trophy. Everybody speaks about how great the 94 team was after they win the Nations Cup and went to the World Cup. Now we have won the Nations Cup too and hopefully we can do better than they did at the World Cup. Everything depends on how we do from the group stage. If we qualify from that, it will be really special for me because the last time we didn't. I think after that, I can actually say what the future might look like and it would be great for the young players coming through. It will boost their careers and for me, that would be something special to see new players get opportunities to move ahead.
Talking about caps, how special would it be for you to reach magic number of 100?
Yeah, It will be special if it is achieved but it's not my priority right now. Getting back in the squad for the World Cup is more important. This team needs to do well at the World Cup and if I can help with my leadership and my experience, that is what I want to do. If the 100 caps will come, it will come. If not, God knows best.
What are the mistakes from 2010 that this team needs to avoid to avoid the experience of what happened then?
Mathematically, people always think too far ahead. Counting points before they have them. I think we just need to avoid all that and focus on the game at hand, and count the points only after we have them. This is the World Cup, the highest level, we need to approach every game seriously.
Do you think nigeria will do well? Maybe even get to the semi-final?
Anything is possible in football with hardwork. As a player you must go into a tournament with the mentality that you want to win. If you don't have that mentality, then you should not be there. Realistically, we have to pay respect to other teams. Most importantly for us is to take each game as it comes, get out of the group then try to win game by game after that and then see how far we can go. If we come out of the group, we can fly really high because the confidence will push us a lot, but we still have keep our heads down and focus and not get carried away whatever happens. That is what this team is about. When we play with confidence, we can go very far.
And after the world cup?
Depends what Fenerbahce wants and what my family wants. I'll look at everything involved. Family is the most important thing for me. I'm going to take my time, look at everything carefully; I'm not going to rush into any decision. This is football. I'm still hungry; I still enjoy what I do, especially for my family because I do most things for them. My son is coming up now; he needs to see me play. So I'll make the best possible decision but it will be between me and Fenerbahce.