FEEL LIKE A PRINCESS IN ROYAL BLUE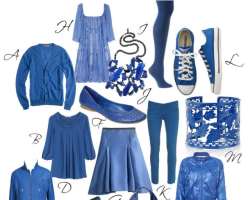 In the fashion world, fabric is everything since it is the only way a design can show its strength. Just as the unwritten law stipulates that your dress has to complement your skin tone. A good example was sultry Maria Carey's option for a blue dress at the recently held OSCAR awards.
If you desire to make a lasting impression or stop traffic at any event, you need to understand the strength of this colour. Although, blue naturally depicts peace and calmness, however, one sure thing you can't take away from royal blue dress is that it flatters most skin colours and tones. If you want to dazzle, indeed you will have to get your royal blue dress made with silk fabric.
Not only does this fabric add shine, it also brings out the elegance of your figure and makes you feel like royalty. There are other types of fabrics that you can make your royal blue dress from. Fabrics like crepe and satin, but understandably, each fabric makes its own statement.
The most challenging issue in choosing the royal blue colour is the dress pattern. In vogue this season is the classic one shoulder design with high slit.
This colour also adds vibrancy and elegance to young women. For those who love drama, it is able to harness all the qualities of youth and bring them out in a sophisticated manner.
To accessorize with this colour, try dramatic crystal chandelier earrings, silver shoes, and peep-toe shoes and a cute clutch to match.