'I have made a lot of money bringing foreign artistes to Nigeria'----Sheila Okonji-Ashinze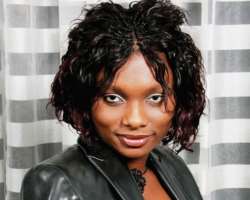 Sheila Okonji-Ashinze, who has facilitated the performance of several foreign top acts in Nigeria over the years, talks to 'NONYE BEN-NWANKWO, Ashinze talks about her latest project, High school Musical.
You have really made a statement in the entertainment industry but many people out there still do not know who you are.
Sheila Okonji Ashinze is someone who is very passionate about the growth of the entertainment industry in Nigeria. I am the CEO of Zons Holdings which has many subsidiaries including Zons PR and Kidtrust.
How come you moved abroad?
My parents thought they should bless me as the strikes in Nigeria were too much to comprehend. It was a big sacrifice they made and I remain eternally grateful to them for that.
People say being friends with MOBO awards founder Kanya King opened doors for you in your early days, how true is this?
Kanya is my mentor and I love her dearly. She is a big sister to me now and always. I also had to do a lot of work and stayed relevant. As most people know, a door or passage can be shared or shown to you but you need the right keys to get in and the heart to stay in.
You are the brain behind the much talked about High School Musical coming to Nigeria.
Yes.
What are the challenges you've faced so far with staging High School Musical in Nigeria?
Some people think it's another Nollywood movie production. It's a combination of music and acting. The entire script is that of Disney's. The Nollywood team on board are all professionals and they know theatre so we merged them with the music world
What informed your choice of Stella Damasus, Kaffy, Tarilla Thompson and Emmanuel Ayalogu as lead team members of High school musical?
I did my research and I wanted top professionals so, I sourced them all.
Who are your other partners on this project?
First Bank Hi Fi Account, Soundcity, Total Parenting magazine. We also have other partners that have been supportive and given great ideas and wisdom to this project. You would know them in the very near future.
For a big budget project like this, you will need a lot of fund, How was the fund raised?
Kidztrust believes strongly in this project and made a huge investment. However, we could have gone nowhere without our major and only other financial sponsor, The First Bank Hi Fi account. First Bank Hi Fi Account, liked the new and dynamic phenomenal behind High Musical Live on stage in Nigeria. They also believe that the concept was something different and it will empower the Youth of Nigeria.
Are you bringing the movie's original cast and the crew from the US or sourcing local talents?
Definitely sourcing Local talent. In fact, this is the first time High School Musical will be having a black Troy and Gabrielle, and we're very happy this is happening
So what should we expect from High School Musical Nigeria?
If you were opportuned to experience any of the High School Musical movies, you should have an idea. However, expect to find something fresh and dynamic as we are now putting and training our own people to play the roles. We intend to make stars out of the lead chosen actors. Currently there is nothing like this in Nigeria so, to have a phenomenal like Disney, allows us the rights to theatrically stage their product with our own.
You just had a baby, how do you combine your busy schedule with being a mother?
Like most other strong women in the business world that run families as well as their business, I am no different. Infact, my husband and beautiful child keep me motivated. They continuously inspire me and I want to play a role in building opportunities for my daughter and other children. It starts with merging Disney with Nigeria. Let's see what's next!
What inspired the move from the UK to the US?
I got married. However, the business is still in the UK and we now have an office in America. So, we at Zons Holdings, now have the best of both worlds. To God be the glory.
How come you are the main person people know who brings foreign acts to Nigeria? Is there a secret behind this?
I have a very good working relationship with all of them. We create for most of them an experience they can never forget. We were the first to bring Jay Z to Africa and this means a lot to him. The collaboration we organized with Star Mega Jam between Busta Rhymes and The Pulse is also another experience that Busta can never forget. There are too many examples.
People say you've made a lot of money bringing foreign stars to Nigeria. How true is this and when will you start taking Nigerian stars abroad?
Wow! Do they say that? Anyway, I have done that. We are responsible for taking a good number of Nigerian Artistes to the United Kingdom. Also watch and see the outcome of Nigeria's High School Musical lead cast members. The winners for the Troy and Gabriella character get to go to England on a theatre course sponsored by the High School Musical Live on Stage production. There is so much in the pipe line for them.
What were the challenges you faced getting Busta Rhymes to collaborate with The Pulse?
It was easy because of the talent that The Pulse possesses. Star Mega Jam created the opportunity and Busta is a man for the people. We told him of the Pulse project with Star Quest and he had the opportunity to hear their material and loved the fresh sound of the pulse in particular the words of the song. So all factors were in place or should I say the stars were aligned for it to happen the way it did.
You seem to have a special relationship with Nigerian breweries?
We work for Nigerian Breweries and have done so since 2000. They run a very powerful and professional outfit. I believe all who work for Nigerian Breweries are special.
Who is your favorite Nigerian artiste?
I have too many to name. For now, let's go with all those that are passionate and original.
Do you remember your first business deal? What was the experience like?
It was hard as I had to prove myself. But a success, because we still work for the client till date.
What lesson do you feel Nigerian artistes can learn from the foreign counterparts?
Not much because Nigerian Artistes seem to know what they are doing. However I think some need to be more original.
How was growing up?
It was beautiful. I have the best parents in the world.
Which schools did you attend?
St Catherines, Federal Bida, Lewisham College and University of Westminster
After High School Musical, what next should we expect from you?
Something big too. You know I love to push the boundaries when it comes to entertainment. Innovation and creativity is my game!
Story by nollywoodgists.com