I did her a favour by selling her baby girl to a Ghanaian says suspect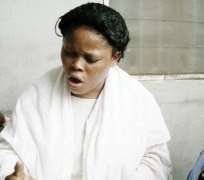 I sold my younger sister's three-week-old baby because I wanted her to start her life again," said 39-year-old Ezinne Paul, who was arrested on Monday for alleged child theft.
Mrs. Paul allegedly sold her sister's three-week-old baby girl to a Ghanaian on January 5 for the sum of N30, 000, under the pretext that she had taken the baby to a motherless babies' home.
Mrs. Paul and her younger sister, Gladys Onuoha, who is the mother of the missing child live in Ipaye, Iyana-Iba, a suburb in Lagos.
Miss Onuoha said she was sleeping when Mrs. Paul allegedly snatched her baby from her and disappeared. She said she suspected something was up when Mrs. Paul could not give her a convincing response about her baby's whereabouts.
"Sometime last year, I discovered that I was pregnant. I then went to tell the man who put me in the family way of the pregnancy. Unfortunately, Shoga, the man responsible for my pregnancy, disappeared and all efforts to locate him didn't yield results. I went to tell my sisters about the pregnancy and they said I should not stay alone because at that time I was living alone at Ikeja. My family had a meeting and they agreed that I should go and live with my elder sister, Ezinne," she said
"I was staying with her and in December, I gave birth to a baby girl. On January 5, she came to the room and while I was sleeping, she took my baby away and later in the day when I asked her where my baby was, she said that other members of my family have agreed that we should give the baby to a motherless babies' home. She told me that if anybody asked me, I should say that my baby died."
She said her baby girl was only three weeks old and was yet to be christened before she was taken away.
The matter was reported to the Ayobo police station and Mrs. Paul was arrested. She confessed to selling her younger sister's baby but said that she sold her niece to help her younger sister start her life again.
"When Gladys was pregnant, nobody wanted to help her. Members of my family said she had brought shame to our family and they forced me to allow her stay in my house until she gives birth. Gladys and other members of my family agreed to the sale of the baby. I only sold the baby off so she can start her life again because she was suffering with the baby."
However, a family member, Chineye Onuoha, said they were not aware of any such agreement and that was why they reported the case to the police after she took the baby.
How the baby was sold.
"I told some women in my area about the baby and one of them brought a Ghanaian woman to buy the baby. I took the baby out of the house and I met the buyer at the Igando police station. She gave me N30, 000 and gave the other woman who introduced us N10, 000. When I came home, I told my sister that I have given her baby to the motherless babies home; I am surprised that she is crying now that she wants her baby back when she knew all along about our plan."
Child theft syndicate exposed
Frank Mba, the spokesperson of the Lagos State police command, while parading the suspect on Tuesday, said Mrs. Paul belongs to a child theft syndicate operating in and outside our country.
"During our investigation, we discovered that Mrs. Paul, who claimed to be a mother of a seven-year-old girl, called Jennifer, is not her mother. She confessed that after being married for 12 years without a child, she adopted the girl, but she cannot show us the adoption papers or any document. She said termites ate them up. This is a woman who allegedly sold her sister's child and it's now obvious that the girl with her was allegedly adopted through illegal means," Mr. Mba said.
Mrs. Paul narrated how she got her baby. "I was married for 12 years with no child. There is a curse in my family and none of my sisters had children. I went to the General hospital in Onitsha and one nurse who I cannot remember her name now, gave me the baby. I paid her N50, 000 for the baby and the other woman who was with her collected N20, 000. I didn't get any adoption paper. It was when I came to Lagos that I went to the Ikotun Local government council and acquired a birth certificate for her," she said.
Police sources added that Mrs. Paul's second child, who she allegedly adopted, has no legal papers either. The police also recovered photographs of family members, charms and padlocks, which Mrs. Paul allegedly used to carry out alleged witchcraft activities.
Mr. Mba said, "The two cases are being investigated concurrently. We will ensure we get the intermediary in her sister's case and also in the alleged adoption in Onitsha. We have a huge challenge but we will unravel and arrest those involved in this dastardly acts."
Story by Patience Ogbo,next