FG commends kalabalge village for repelling Boko Haram attack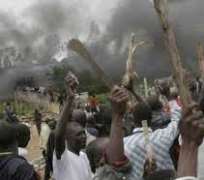 The Federal Government has commended Kalabalge villagers for the gallantry and exemplary patriotism displayed by repelling the Boko Haram attack on their village.
The villager had on Tuesday repelled a Boko Haram attack killing about 100 of the insurgents and arresting about 10 of them.
Speaking through the Coordinator of the Joint Information Centre on Chibok girls, Mike Omeri, the government said that the residents' action underscore the need for a united effort by all Nigerians in the fight against the insurgents.
Mr. Omeri also encouraged other communities to emulate this act by the people of Kalabalge.
He also assured Nigerians that the over 200 schoolgirls who were kidnapped from their dormitory in a Government Secondary School Chibok, Borno State, will be rescued, adding that Nigeria is working in synergy with the international community to reunite the girls with their families.
The insurgents had repeatedly attempted to attack Kalabalge, an agro-nomad community near the Cameroon borders, but failed to gain entry into the village on each attempt.
Residents said the villagers had made security preparations around the village that made it impossible for the Boko Haram insurgents to succeed. The village also serves as the headquarters of Kalabalge Local Government Area of Borno.
The residents of Kalabalge also recovered vehicles and ammunition from the insurgents.