'We won't post corps members to Adamawa, Yobe, Borno'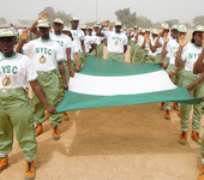 The Director General of the National Youth Service Corps, Brigadier -General Johnson Olawumi, has stated that the Federal Government has stopped posting corps members to the troubled three states in the North-East which are under a state of emergency rule.
The states are Adamawa, Yobe and Borno.
Olawumi stated this in Abuja on Wednesday when he appeared before members of the Committee on Civil Society, Labour, Youths and Sports of the national conference.
He said the agency had taken a decision not to send any corps member to the three affected states unless the request to be posted to any of the states comes from the corps member.
The DG said, 'We have stopped sending corps members to the three troubled states in North-East under emergency rule. Surprisingly, some still demand to be posted there would get posted there. But nobody is forced to go there.'
He said there was no way the agency would stop those demanding to be posted there, adding that the embargo on the three states would continue until security improved there.
Olawumi also spoke on areas the agency was making use in order to make the corps members self reliance after their one year service.
This, he said, included skills acquisition and entrepreneurship development programme which he said had been established in all states and Abuja to train corps members.
He said that many corps members have benefitted from that programme and that this has made them to rather than becoming job seekers after the one year service, they have actually became job creators.
The DG also said the commission was considering setting up youth empowerment fund where skilled corps members would be able to draw after they must have finished their service years.
He said, 'What we are looking at is to have a pool where those corps members who have acquired one skill or the other while in camp and throughout the service year will write a business proposal, which we will look at and if we find it suitable, refer such a corps member to the administrators of that fold that they can advance on loan.
'Such a loan if it is approved will be interest free and there will be no issue of bringing collateral, since the corps member is just passing out, we hold the discharge certificate as collateral.
'We have tried that under the MDG, War against Poverty Programme and seen hundred per cent response by corps members to payment of loans given to them.'
He said the agency was already planning to expand its coast by posting corps members to oil companies and banks, an action he said was not part of the policy of the NYSC before.
He said that by government policy only allow them 'to deploy (corps) members to four key areas, which are health, education, agriculture and rural development.
'Over time we found out that when we post corps members to these areas, we still have some that do not have places for their primary assignment.
'We are looking at expanding it beyond this four to places like oil industry, the banking sector, the telecommunication industries but in doing this, we might need to put some regulations in place so that corps members are not used and dumped as it was done sometimes in the pas by banks.' Punch