Tony Montana's house goes on sale for $35m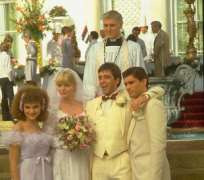 The Scarface wedding scene was shot at El Fureidis.
OK, let's get this over with.
"Say hello to my little friend."
That's the most famous line from "Scarface," and if you recognize this home that just hit the real estate market at $35 million, you almost certainly know it as the home of the fictional Miami gangster Tony Montana and his wife, Elvira, whom he married on the grounds.
This home isn't actually in Miami at all, though. It's in Montecito, California, outside Santa Barbara. And although the home is probably most widely known from "Scarface" — exterior scenes were shot here, including the Tony-Elvira wedding and the scene at the end where assassins scale the walls in pursuit of Tony — its significance is far greater than that brief moment in the spotlight.
There's a strand of architecture that seems quintessentially Californian (even though you see it elsewhere too): palm trees swaying over pseudo-Mediterranean "villas" influenced liberally and eclectically by Spanish, Italian, and even Middle Eastern styles.
Well, to a large extent, this home birthed that iconic style — palm trees and all.
El Fureidis, as the 1906 home was dubbed after the Arabic for "little paradise," http://archive.org/stream/surveyofwesternp00conduoft#page/146/mode/1up was the breakthrough project of architect Bertram Goodhue. He pioneered a style that architectural types now generally agree to call Spanish Colonial Revival — with a wink at the word "revival," which carries a literal world of influences.
http://therainbow.com.ng/tabloid/wp-content/uploads/2014/05/The-Byzantine-conversation-room..jpg
Before El Fureidis, Goodhue had worked mostly in a neo-Gothic vein. But then his fabulously wealthy friend J. Waldron Gillespie invited him to design this home.
Gillespie, an avid traveler, wanted to emulate the places he'd seen in the Mediterranean, and settled on Montecito as the closest possible climate in America. They journeyed together for nearly a year across Europe all the way to India — "a significant portion of their journey included over 500 miles on horseback from the Caspian Sea to the Gulf of Persia," today's El Fureidis listing says http://yhoo.it/1jXOO1o — to research architectural styles.
What they settled on was the fantastically catholic estate you see here, inspired by the Italian Renaissance, the Moors, Persia, classical Greece, ancient Rome, Spanish colonizers, and we're sure you can pick out more. Much of it is unchanged over its century of existence:
• Its "piece de resistance," as listing agent Emily Kellenberger McBride calls it, is a gold-leafed, becushioned Byzantine-style "conversation room" — with an 18-foot-high dome whose design was inspired by the Basilica of St. John Lateran in Rome — arranged around a shallow pool. (You can "tour" the estate via the agent's really gorgeous website at MontecitoParadise.com http://bit.ly/1mnr0Ff .)
• The water theme recurs throughout the property, mostly in the Persian-style gardens' pools and fountains.
• The gardens are central to the 10-acre estate and still contain some of Gillespie's original specimens. He collected more than 100 tree species, many of them palms, and "accidentally sparked a landscaping craze," according to a Daily article called "Frond memories." http://www.harrykolb.com/lifestyles/El-Fureidis%20Estate-opinions-history.pdf It seems that the estate quickly became a popular destination for the local glitterati's masquerades and balls, and neighbors and visitors began to borrow "the element that struck them as most exotic and most easily replicable: the palm trees." (Speaking of the home's social history, author and onetime resident Thomas Mann is said to have entertained his fellow Nobel laureates Albert Einstein and Winston Churchill there, and Charlie Chaplin reportedly repaired there with blushing bride Oona O'Neill either for or just after their elopement.)
• You enter the dining room through grand bronze doors that pick up the 24-karat gold leaf of the barrel ceiling, onto which Goodhue had artist Henry Wadsworth Moore hand-paint a mural depicting Alexander the Great's vanquishing of Persepolis.
• The home still holds some of the original details selected by Gillespie and Goodhue, including the lights in the dining room and door hardware in the living room.
• Nine bas-reliefs depicting legends of King Arthur cap the south patio. They're signed by Lee Lawrie, who is probably best known as the sculptor of the Atlas statue at New York City's Rockefeller Center.
As one critic wrote in 1915, "the whole place is really so unconventional that artistically it is either very good or very bad indeed." That critic declared it one of the 12 best "country houses" in America.
The home is owned by Russian financier Sergey Grishin, who bought it about five years ago and undertook its multimillion-dollar renovation and modernization.
El Fureidis, a 10,000-square-foot home with four bedrooms and nine bathrooms on 10 acres of land, is now on the market for $35 million through Village Properties, an affiliate of Christie's International Real Estate. Christie's is marketing it along with the global advisory firm SG, based in Santa Barbara.