The Stylish, Never Fading Beauty Of Box Braids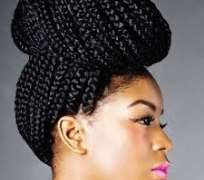 Every woman loves rocking the uber-cool, low-maintenance box braids style because, they give a superb opportunity to extend one's hair which aids in flaunting various exquisite and simple hairstyles with it.
Box braids helps protect your natural hair except for those with weak brittle hair. The hairstyle is called different names. They are called loose braids, Poetic Justice braids or Single braids. Box braids are called so because of the pattern they form when parting your natural hair i.e square patterns. Any other pattern would probably be the poetic justice braids which is known for its Jumbo(big) size or the usual loose braids that vary in size and pattern.
This hairdo can be styled in many eye-catching ways such as;
I) Ponytails or high-twisted Bun; make a high ponytail, wrap at where the hair is been tied a beautiful silken scarf or better still attach a gorgeous hair flower to get an awesome look.
ii) Buns/cute Updo; this is the most seen and popular way to style box braids. Advantage of this vogue is their variability, where high buns can be bulky, compact, loose, tight, simple or with elements of braiding. It is a lovely hairstyle to rock to parties with unique, demonstrating skilful twists, wraps, thicker and thinner braiding and an original color, accentuated with stylish accessories. High buns can pull focus to your face and are ideal for elegant occasions or more formal settings. The end of the bun can also be braided for a more luxurious look by pulling a few braids out from the updo resemble hanging chains and make this hairstyle more unique.

iii) Loose braids; they are fun in movement to wear when loose which is an original way of wearing it. They can be twisted creatively on top and styled with cute hair accessories. Fancy hair scarves can be used also to adorn it, slightly covering the cheeks as a long bob hairstyle which comes out looking chic. . It is fast and easily done with a quick brush of the hand against your hair.
iv) Ornate Twists And Asymmetric braids; they are additional elements that can be introduced into a creative braid hairstyle. Ponytails can be twisted, front section off the forehead can also be twisted, wrapping either side of the forehead is a brilliant idea which comes out astounding and can be made more emphasized with a beautiful little hair flower and a gorgeous smile.
Asymmetric updos are statement box braid styles which includes; the fish tail braid, fish-tail side bangs, braided Mohawk, the twisted lady style, twisted side braid and braided hat respectively. They are characterized by simple twist wrapped around by a previously separated section of braids.
Box braids gives a whole lot of variations to styling it with most of them fastly and easily created. Braiding your hair can be a great way to protecting your hair while transitioning or otherwise. Still don't know how to style yours? Click the pictures below and checkout the amazing styles to creating yours today.
>

© 2014 Nollywoodgists.com
Click the link below to go to...
There is No Document That I Was Deported…..Apostle Helen Ukpabio
"I Have Common Sense and Knowledge....2face Idibia
Comic Actor Ime Bishop Umoh, 'Okon Lagos' Welcomes Newborn
Can Nollywood win OSCAR ?
AGN Boss, Ibinabo Fiberesima Turns Pastor, Urges Members To Be Prayerful
Record Label Contract Issue, My opinion Doesn't Matter At All……..M.I
We Should Beg Boko Haram Not Protest- Dencia Speaks On Missing Abducted Girls
Sexy Singer, Imelda J Dazzles In 'Show-Stopping' Vintage Gold Outfit