Maheeda Calls Haters 'Boko Haram'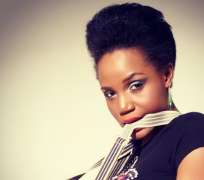 Controversial singer, Maheeda has described her social media haters as 'Boko Haram' who don't tolerate people with different beliefs or lifestyles.
Maheeda is apparently tired of negative comments about her. She stated that her haters are just like Boko Haram group who do not accept other people's cultures and have decided to kill them.
"Removing politics ....... Some group of people called Boko, think killing people or bombing them is good because this people are not believing what they believe, so this people deserve to die, well, you all said, no way ! Boko is wrong, but most of u r doing the same thing, when you see some one like me doing what u think is wrong you say we deserve hell we deserve to perish! We deserve to die, You are all the same you are all bokos !" Maheeda's message said