Boko Haram Attacks Gamboru Ngala, Scores Reported Killed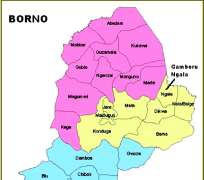 Dozens of Boko Haram gunmen attacked Gamboru Ngala, in Ngala local government Monday, killing scores of citizens and destroying the town.
Nigeria's military arrived to engage the terrorists in fierce battle. As at the time of this report, the exact numbers of causalities is not confirmed but the town is said to have had all its community buildings destroyed.
Ngala local government is located on the border with Cameroon.
According to locals, Boko Haram has also been operating ferociously on the highways, abducting drivers with their vehicles. A taxi driver who took Fulani passengers on a journey from Maiduguri was abducted by terrorists on motorcycle yesterday and has since not been seen or heard from.
Dr. Peregrino Brimah
http://ENDS.ng [Every Nigerian Do Something]
Email: [email protected] Twitter: @EveryNigerian