COLOURS OF DANCE FIESTA AT MURTALA MUHAMMED SCHOOL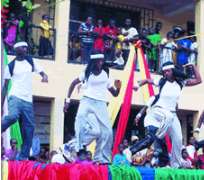 Colours of dance fiesta at Murtala Muhammed school
By WOLE BALOGUN
Thursday, March 18, 2010
It was a unique festival of dance recently as the Murtala Muhammed International Airport School, celebrated its creativity day in Lagos.
The event featured a variety of entertainment show, also saw an exciting presentation of Salsa, hip hop and diverse African indigenous dance movements.
The students, who were grouped into houses, green, white, yellow and blue, presented each dance genre so dexterously that made audience yearning for more.
Starting off with Salsa, that classic dance form described as a syncretic genre from Cuba to become the meeting point of European and African popular culture. The dancers came out in pairs, a male and a female, and gave viewers a thrilling moment with delightful body movement and well choreographed steps that baffled everyone. Their European costumes added more colours to their overwhelming performance as the audience relished it in gusto.
Hip hop performance from each of the groups drew a wild applause from the viewers who comprised mainly their parents and other guests. Some parents even wondered aloud how much their children have known about the fast developing hip hop dance in Nigeria and beyond.
The students painted the stage red on each occasion as they danced skillfully and wildly to several tracks by popular Nigerian artistes such as Fele P,Square Anikulapo -Kuti, Olu Maintain, D'banj and They equally mimed works by a artistes, such as Michael Jackson, Shakira, Lionel Richie and Mariam Makeba.
However, those were just the tip of the iceberg. The dances simply blew the minds of viewers when they presented indigenous dances. While Igbo group dazed the audience with their highly electrifying dance steps. the Hausa group told an interesting story of love, initiated subtly by the ladies before the pretentious men 'succumbed' to the game, through their rather sensual dance steps.
The Bini, Yoruba and Niger Delta groups also showcased the hierarchy in traditional authority through dances. A colourful display of costumes and beautiful dance steps earned the Bini group a resounding applause from the audience, just as the Yoruba group won their hearts with well' coordinated steps of dances in rhythmical balance with interesting cultural songs. Also, the Niger Delta group did not disappoint their teachers with a beautiful performance which lured some viewers who generously sprayed Naira on the dancers.
At the end, the Yellow house came tops in the dancing competition.
Speaking on the need for cultural programmes in the school, the principal, Mrs. Theresa Ngozi Enilama, said 'Just as inter-house sports is observed by school to discover and develop students sporting talents and help nurture them, the school has taken it upon itself to help discover, develop and nurture its students' hidden talents in the area of arts with a view to encourage them to possibly take up career in it. This is why we organised competitions in this area under a creativity day.'
Asked about the fruits of the effort, Mrs Enilama said proudly that her school had won an award in the first place in a recent cultural show contest in the state. Two students were equally grateful for the opportunity given them to showcase their talents. Aisha Ibrahim, a Primary two pupil of the school remarked that she felt elated for being Part of the event. Also Kola Lanre, a seven year old pupil, said he felt great like a president having participated in the competition.