Babangida Legalised Corruption In Nigeria—Dino Melaye
…Says, "No Regrets Fighting Bankole"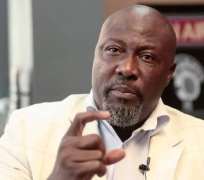 JONATHAN UNSERIOUS WITH ANTI-CORRUPTION WAR
Otumba Dino Melaye is a former member of the Federal House of Representatives. He is the Executive Secretary of Anti-Corruption Network. In this exclusive interview with The Agenda newspaper in Port Harcourt, he speaks on anti-corruption war in Nigeria, his days in the House of Representatives, way forward for Nigeria, among others.
Excerpts:

Experience in the House of Representatives
It was a very wonderful experience. It was of the good, the bad and the ugly; but put together, it is an experience worth it and I look forward to going back there. By the grace of God, I am contesting for Senate in 2015.
Why he is in Politics
Politics simply means development- human and physical. Some of us are into Politics because of the passion and love we have for this Country-Nigeria and believing that as change agents, we will be able to play a positive concomitant role in bringing back our long lost reputation as a nation in ameliorating our problems as a nation and also correcting the system from within. If good people refuse to be part of governance, then the bad ones will dominate governance.
Life as an activist
I am not new in activism. I was one of those incarcerated during the Abacha's government; I was incarcerated during the Ibrahim Babangida's government; so, there is nothing that I am doing now that is new. I was a students' Union activist in Ahmadu Bello University, Zaria. Only those who do not follow history will think that I am doing this for the first time. I was a Primary School head boy; I was a Secondary School head boy. I led protests in my secondary school days. I was suspended; I just believe that in an unjust society, silence is a crime. You cannot separate Politics from activism because most change agents across the globe were politicians. You have to be part and parcel of the policy formulation and implementation; else, there will never be development. Mandela was an activist and a Politician; he contested and won elections as a politician. Martin Luther King was a politician; he was a revolutionary, as well as an activist, among several others. After fighting for a better society, you need to implement the ideals and ideology you believe in, in building that society. Those thinking that it is an aberration for activists to be politicians are myopic.
Why he was suspended from the House of Representatives
All I will say is that some of us in the National Assembly as at that time believed in justice, equity, rule of law and things needed to be done in the right way. When I discovered corruption in the House of Representatives, I blew the whistle; I submitted petitions against the leadership of the House to the EFCC and ICPC and upon resumption, I was molested and suspended. I went to Court and won my case against Dimeji Bankole and the House of Reps and eventually returned to the House of Representatives. I have no regrets challenging the leadership of the House at that time. Given a repeat of the same scenario, I will do the same thing because I believe that public funds should not be looted.
Television sets that were sold for N110,000.00 were purchased for over N250,000.00; Torch light sold at N300 in the market were bought for N18,000 each, among others. That was the reason why I was suspended. It was an association of corrupt characters against my person and those who believed in the struggle at that time-11 of us were suspended and we got justice in the Courts of law. They resisted our coming back, but eventually, we returned to the House and ended that session with our colleagues.
Sustaining anti-corruption war in Nigeria
The Judiciary is supposed to be the last hope of the common man, but, in Nigeria, it is gradually becoming the last hope of the highest bidder. Judicial corruption is the bane of justice and anti corruption war in Nigeria. If the Judiciary is not corrupt, Judges will not be suspended. In recent times, over 5 Judges have been suspended for corruption. That speaks for itself.
Anti-corruption war in Nigeria
The anti-corruption war in Nigeria is on the pages of newspapers. It is on pen and paper; on the lips of individuals. There is actually no seriousness on the part of government and her agencies to fight corruption in Nigeria. The government of President Goodluck Ebele Azikiwe Jonathan is the most corrupt in Nigerian history. The fight against corruption in Nigeria cannot be taken seriously except we have constitutional amendments to our laws, especially, the powers of the President to appoint the Chairman of the Economic and Financial Crimes Commission, Independent Corrupt Practices and other related offences Commission, Code of Conducts Bureau and other related Anti Corruption agencies, as well as the Independent National Electoral commission-INEC. Except those powers are taken away from the President, you do not expect them to properly investigate the President and his cronies.
The power should be taken away and taken back to the National Judicial Council that will make recommendations to the Council of States for approval. Until that is done, the fight against corruption will remain mere leap service. Over 6-7 Ministers have been indicted in this government; they have not even been invited by any of the anti-graft agencies to even take a statement. Elder Godsday Orubebe, Ms Stella Oduah, Diezianni Allison Madueke etc have been indicted severally.
There are about 7 different reports against Mrs. Diezianni Madueke, the Petroleum Minister;-You have the Ribadu report, the KPMG report, Iyke Imokhodi report, Farouk Lawan report, Senate Committee report on subsidy, led by Senator Bukola Saraki; you have the NEITI report, which says that N1.2trillion is yet to be remitted back into the government treasury by NNPC and Dieziani is the Minister for Petroleum and chairperson of NNPC Board; so, if these indictments are on and yet this woman, every Wednesday is immaculately attired and cosmopolitantly fashioned in Diamond, attending the Federal Executive Council meeting under the watchful eyes of an unperturbed President, then you should know that there is problem.
In the past, there was a public convention against Ministers that were indicted. Sunday Afolabi was Minister for internal Affairs in this country. He was indicted in National Identity card scam. He was removed as Minister and later died in prison. Professor Fabian Osuji , who was Minister for education was indicted and removed from office. Even in the time of Yar'Adua of blessed memory, Professor Greg and Architect Gabriel Aduku, Minister for Health and Minister of states for health were indicted and removed; but I want to say categorically that in this Goodluck Jonathan's government, not one politically-exposed person has been prosecuted or jailed. The subsidy trial is on; nobody is in jail, despite the fact that some people have even remitted stolen money, but they are still free men; so, the body language of Mr. President, the actions and inactions of Mr. President massage corruption, romance corruption, promote corruption and house corruption.
Performance of anti-Corruption Agencies in Nigeria
It boils down to leadership. There is a popular adage that once the head of a fish is rotten, the entire body is gone. Nigerians are gullible people; irrespective of their vocation. Once the leadership of a particular organization stands straight, others will follow. During the Buhari/Idiagbon government, there was war against indiscipline and Nigerians respected that. Every Saturday, Nigerians were out, carrying out environmental sanitation. In every commercial vehicle, you had a waste basket. When you go to filling Stations, you must cue, because, the leadership at that time stood right for that; but immediately the Ibrahim Babangida's government came and legalized corruption, Nigerians went back to their cocoons. So, the issue is with the leadership of these anti-graft agencies. Once the leadership is ready to work with sincerity of purpose and commitment, there will be a way out. It boils down to the appointment of the leadership of the agencies. Once the right man is there, others will sit up. If you have a Minister today in this Country that gets to his office at 8am, the Permanent Secretary cannot come by 9am; the Director cannot come by 9.30am. It boils down to exemplary leadership.
If the anti-corruption agencies are not corrupt, they would have fought corruption because, carrying out selective and vindictive fight against corruption is corruption; refusing to prosecute corrupt persons is an act of corruption. We have given ultimatum to the anti-corruption agencies to act or we compel them to do their work, using the instrumentality of the law.
Except we kill corruption in the anti-corruption agencies and the Judiciary, we have no way forward. The only way out is for the masses to come out en mass, become change agents and agitate against corruption, ineptitude and abuse of rule of law.
Anti corruption Legislations in the present National Assembly
We do not lack laws in Nigeria. What we lack is implementation. At the same time, the Nigeria Financial Intelligence Center, Proceeds of Crime, Mutual Legal Assistance and Whistle Blowers Protection Bills are very fantastic legislations, but what is delaying these legislations is also corruption within and outside the National Assembly. If proper oversight function is carried out by the National Assembly, there will be no need for probe in this country.
Death Penalty for corruption in Nigeria
I totally support death penalty for corruption in Nigeria. The reason is simple. If one steals millions and billions meant for road construction, for instance and as a result, many lives are lost, the person is a murderer. When money meant for drugs are stolen and people die, they are more dangerous than murderers.
Nigeria of my dream
My dream Nigeria is that day that we will produce a President who will not only go to commission Projects, but will supervise them; that day when public office holders found stealing will be sent packing and sent to jail. The Nigeria of my dream is that day when Nigerians will stop celebrating corrupt persons, but will start embarrassing them; the Nigeria where our votes will actually count.
Way forward for Nigeria
The President should become born again. The President should become decisive and stop appointing stooges into sensitive offices.