ABUJA Bomb Blast, Obi sympathizes with those affected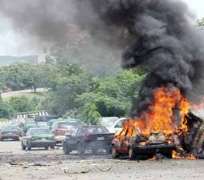 The Honorary Special Adviser to the President and the former Governor of Anambra State, Mr. Peter Obi described the Nyanya bomb blast of yesterday as mindless war against innocent Nigerians.
In a statement made available to the press, Mr. Obi, wondering what the perpetrators of the act stand to gain, Obi said it was worrisome that innocent Nigerians were confronted by barbarians that did not have respect for the sacredness of human lives. "The strange culture of people killing follow humans without compunction can at best be described as atavistic throwback to the old and superseded ways. To observe those traits of barbarism creeping back to our country calls for concerted efforts to check", Obi said.
Commending President Goodluck Jonathan for promptly visiting the scene and the injured in hospitals, Obi urged him not to relent or be dampened in his efforts to bring the situation under check. He also commended security agencies for their prompt response and urged them to do everything possible to fish out the perpetrators of the evil act.
Obi called on Nigerians to offer helping hands to the victims as much as they could and preyed to God to strengthen the families of all those affected by the act, especially those that lost their loved ones.