How do I make him to marry me?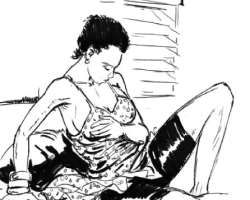 Celebrities are thought to be the richest people in Nigeria from the way they spend on vacations, exotic cars, birthday bash and the way they appear when they grace red carpet events. Even with all these shows of wealth, a very good number of them have no landed property to their names and many of them live in rented apartments; here is the list of them below.
Eucharia Anunobi-Ekwu: Apart from being one of the few actresses who first carved a niche for themselves in the movie industry now known as Nollywood, Eucharia has a unique way of delivering her roles in movies. But despite her prominence in Nollywood, she still lives in a rented apartment in Lagos.
•Yomi Fash-Lanso: Currently one of the stars to reckon with in Nollywood, especially the Association of Nigerian Theatre-Arts Practitioners (ANTP), Fash-Lanso is a talented actor and movie director who has featured in many films. But he still lives in a rented apartment.
•Saint Obi: Perceived as a Nollywood 'bad boy,' Saint Obi needs no formal introduction in the industry. The Nollywood star moves from one rented apartment to a more 'prestigious' one in Lekki.
•Chidi Mokeme: Despite his alleged love tango with an influential female Senator of the Federal Republic from the Niger/ Delta years back, the versatile actor, who anchored the maiden edition of Gulder Ultimate Search lives in a rented house at VGC.
•Ngozi Nwosu: This light complexioned prolific actress is a role model to many upcoming actresses.
The star actress lives in a rented apartment with her family.
•Ejike Asiegbu: Like the former president of ANTP, Jide Kosoko, who still lives in a rented apartment; Asiegbu, the former president of the Actors' Guild of Nigeria (AGN), still lives in a rented house with his family. Asiegbu, apart from being a versatile actor and lecturer, is one of those who have contributed immensely to the growth of Nollywood.
•Ronke Ojo (Oshodi-Oke): Prolific actress, Ronke Ojo a.k.a Oshodi-Oke is one of the best actresses in Nollywood. The naturally endowed actress and mother of one, who has carved a niche for herself through her versatility and style among her contemporaries, also lives a glamorous life style.
In spite of her prominence in movies, Oshodi-Oke lives in a rented apartment in Meiran area of Lagos.
•Kayode Odumosu (Pa Kasunmu): Despite being a crossover actor, popular Pa Kasunmu who has featured in many flicks, is yet to own a landed property.
•Segun Aderemi(Chief Kanran): Aside being a veteran, Chief Kanran is a crossover actor who has a unique style of acting since he was inspired by his elder brother, Adeyemi Aderemi, who also introduced him to the industry. Chief Kanran also lives in a rented apartment like many of his colleagues.
Iyabo Ojo is among the prominent and leading actresses in Yoruba Movie Industry. Her regular appearance in movies enhances the quality of such films because the elegant actress has large fans but as successful as she is, she still lives in a rented apartment at Omole Estate.
Dayo Amusa-Top actress and producer, who kicked off her career in Nollywood as an actress, sojourned into movie production few years back. Since then, Amusa has produced various films that placed her name among top female movie makers in Yoruba sector of the industry but doesn't have her own house.
Ebube Nwagbo is one of the fast-rising actresses in Nollywood. The eldest in the family of six, her hair line is doing perfectly well in the market, but the pretty lady is yet to join the landladies clique.
Kayode Olasehinde known as "Ajirebi", the semi-literate old man to the Nollywood Yoruba Movie lovers and as "James", the crafty, yet notorious and funny old man in Papa Ajasco and Family, the Kwara born actor is yet to be called a landlord.
Funsho Adeolu-Adegeye, is clearly one of the very best in Nollywood. He has featured in hit movies like The Contractor, Diamond Ring, and Most Wanted among several others in the 1990s. However, his face is now more popular in Yoruba movies but he is yet to own a house.
Chika 'Nancy' Ike is a leading Nigerian actress, entrepreneur CEO of Fancy Nancy Collections and philanthropist, and also the founder of Chika Ike (Help A Child) Foundation. Chika is the brand Ambassador of Bullet Energy Drink. But she hasn't joined the clique of landladies.
Bimbo Akintola is one of the most versatile characters in the Nollywood movie industry and is very easy- going. But the beautiful woman is yet to own a house.
•Femi Brainard: This dark complexioned dude obviously needs little or no introduction in Nollywood.
He has featured in a number of English and Yoruba films and as well gained prominence over the years.
Since he stopped living with his parents at Mobil Estate, Satellite Town, Brainard now lives in a rented apartment in Lagos with his family.
•Desmond Elliot: Handsome and talented actor, Elliot definitely has a way of endearing himself to people's hearts. Though his life style has changed tremendously due to his success in the make-believe industry, he still lives in a rented home with his family.
Kunle Bamtefa: Popularly known as Chief Fuji of the rested Amaka Igwe's Checkmate, a television drama of the early 1990s and now, Fuji House of Commotion, the veteran actor and broadcaster, is a role model to many upcoming artistes in Nollywood, having weathered all storms to rise to the peak of his career. Despite his fame and wealth of experience, however, Bamtefa, who is a crossover actor, is still living in a rented apartment with his wife and children. Some months back, we learnt that the landlord of his rented duplex sued him to court for not paying his house rent.
Saheed Balogun: Self-acclaimed 'African James Bond 007', Saheed Akolawole Balogun, is no doubt one of the most famous actors in Nollywood. The crossover actor despite his fame, talent and good delivery of movie roles, still lives in a rented apartment.
Uche Jumbo: This beefy actress needs no formal introduction in Nollywood because she is one of the consistent actresses and scriptwriters the fast-growing industry can be proud of. However, the party freak still lives in a rented house around Igbobi area of Lagos State, even as she seems to be one of the most-sought-after actresses currently making waves.
Stella Damasus-Aboderin: No doubt, whenever successful actresses are mentioned in Nollywood, Stella Aboderin is usually among the first 10. This is because her antecedents and acting prowess have earned her the fame and glamour that come with stardom. The pretty actress and widow of Jaye Aboderin, who had often been alleged to be in a love tango with some of her colleagues, is not yet a proud owner of a landed property. She still lives in a rented apartment at Lekki, Lagos.
Wale Adebayo (Sango): This tall dude who hit stardom through his first role as the lead actor in Sango, an epic flick produced by Femi Lasode, is obviously living in affluence and wealth at the moment.
Adebayo, who was living with his parents' at Satellite Town until his sudden change of status after he featured in Sango, now lives in a rented apartment somewhere in Maryland, Lagos.
Fred Aseroma: When Frederick Aseroma featured in a promo for billionaire Mike Adenuga's Glomobile Network, many thought he had made mega bucks from the deal. But Aseroma is not living up to expectation, even if he made a fortune out of the deal. The actor still lives in a rented apartment at Kings' Avenue, near Bemil Epiphany, Ojodu-Abiodun, Berger, Lagos.
Jide Kosoko: Apart from being the former president of Association of Nigerian Theatre-Art Practitioners (ANTP), Kosoko is a Nollywood icon. For many upcoming artistes, he is a mentor and role model, due to his dexterity in the make-believe business. However, he still lives in a rented apartment in Lagos, despite his achievements and fame.
Jimi Iyke: Generally perceived as a 'bad boy' and 'sex symbol' in Nollywood, he is a popular figure in the Nigerian film industry. No doubt, he has made money, fame and connections after he quit his banking career years ago for the make-believe business, but disappointingly, he still lives in a rented house.
Segun Arinze: Obviously, Arinze is a household name in Nollywood. This, however, may not be unconnected with the 'bad boy' roles he plays perfectly in movies, Arinze who has now added another feather to his cap by grabbing the microphone and working on his debut musical album, lives in a rented home.
Ramsey Nuoah: Although much has not been heard about this 'Oyinbo' actor, Nuoah after he had a close shave with death, is still a major player in Nollywood. Even though sources close to the actor squealed that he is still financially bouyant, he still lives in a rented house.
Shan George: Crossover actress, Shan George despite moving in and out of different marriages with successful and wealthy men living abroad, she lives in a rented apartment around Salvation Street, Ikeja. Meanwhile, her acting prowess is quite commendable and sometimes, beyond imagination.
Culled from Global Excellence