Gov. Peter Obi CON, Well Done!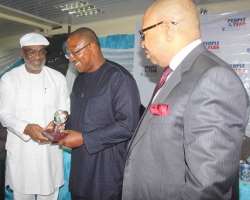 Like Benjamin Disraeli, I have brought myself by long meditation to the conviction that a human being with a settled purpose must accomplish it, and that nothing can resist a will which will stake even existence upon its fulfillment. It was that will I saw in Mr. Peter Obi,whose tenure as governor of Anambra State is ending gloriously with capstone achievements. I did not know Peter from Adam and we never met before the explosion of his political ambition.
Contrary to the views of many, he is not my blood relation and our sharing the same surname, 'Obi' and his addressing me as his elder brother are rather coincidentally, divine because while he is from Agulu, I come from Awka. Politically, we are also of different parties. Entangled by the inevitable long arm of destiny, our firstmeeting was as uneventful as it was unceremonious but yet a congregation that turned out to be the seed of a gracious relationship and inspired conviviality rooted in service delivery.
It was at the beginning of his gubernatorial aspiration in 2001 that destiny brought us together for the first time. It was in his search for political space to serve as Governor of Anambra State that Peter visited Ezeigbo Gburugburu, late Dim Chukwuemeka Odimegwu Ojukwu in his Enugu residence to intimate him of his ambition as well as asked of his blessing on his aspiration. In his dignified straightforwardness for which he was known,Ikemba told him to the face that he had endorsed Chief Ben Obi, a High Chief of Awka, for the position and that he could only support him should Ben Obi declined. Instead of going home lamenting as most people would do, Peter picked the courage to see me. He narrated his encounter with Ikemba which he ended with a bold inquiry on whether I was actually running concluding that he could only back down if and only if I was actually in the race.
As I interrogatively looked straight into his eyes, he did not blink nor close his eyes in defeatist attitude of absolute surrender; instead, he responded with a determined focus and confidence that convinced me of his sincere desire. His firm stare reminded me of Paulo Coelho's The Devil and Miss Prym's assertion that whenever you want to achieve something, keep your eyes open, concentrate and make sure you know exactly what it is you want. No one can hit his target with his eyes closed.
I finally said to him 'Peter go back to ikemba, and say to him I am not running'. Through the prism of the present, I saw his determination to survive in the form of willingness to die. I was impressed. He won my heart and by extension, those of the good people of Anambra State. I was not wrong and since then, the relationship of brotherhood commenced. In fact, that is how his political journey started with the All Nigeria Peoples Party (ANPP).
I am happily flabbergasted that those unusual political calculations and concessions we made did not backfire as Governor Obi's achievements transcend the expectations going by the peculiarities of the state; a state in which everyone is lord unto himself and a state in which its former governor once said that he could not construct ordinary 50km of road without federal assistance. He overcame the treacheries and the tribulations of the untidy cruise, leaving in its stead, memorable landmarks that left even his enemies wondering at the secret. He is simply a young man who can conveniently sell sand even in the desert.
Our path crossed again, as we both appeared before the Honorable Justice Nabarume electoral panel, battling to recover our stolen mandate. Removed from Office twice and returned twice as well, Governor Obi remains a reference point in political discourse as his confidence in the rule of law and due process distinguishes him from the lawlessness of his peers and the rascality of his generation. The do or die character of the Nigerian politician is dead in him just as logical sequence in the act of policy explanations form an integral part of his governance style. I love his approach to leadership and I love his belief in the magic-wand of civility in governance.
Although he assumed office, when the state was notorious in all spheres of political engineering and reactionary elements from the state were in-charge of the State, he made it clear it was no longer business as usual. Thus, through unqualified humility and constancy to purpose and firmness, civility and order in governance were reintroduced as gangsterism and its concomitant societal abuses gave way to decorum and unimaginable diligence.
The state was rescued from lawlessness and disfunctionalism. 'You cannot have development in a state of anarchy and disorder' the Governor once said. Of course, never in the history of contemporary Anambra have we enjoyed this kind of understanding and peace. Unlike when people voluntarily went on safe-exile from the state, we now walk the streets safe. The government relationship with the people has changed and the peoples' perception of government and governance has turned impressive. Thuggery is banished, crime reduced and sanity restored. Courtesy has become an attribute of governance in Anambra.
The high rate of conviviality and understanding among Anambraians, especially, thestakeholders is on record high because in the words of Robert Greene's The Art of Seduction, Peter played the victim and suddenly transformed the peoples' sympathy into love. He humbly reached out to all of them one by one by visiting them at home. Throughsuch surprises, he cultivated a sense of importance in them which is a sine-qua-non in the heart of the arrogant. This strategy disarmed his critics and confounded his enemies to acquiesce. That was against the former practice where some governors of the stateintentionally avoided ordinary phone calls. He moved about in normal unmarked vehiclesand simple attires that virtually announced the obituary of sanctimonious ostentations, longexotic convoys, intimidating sirens and complexities that formed the signature tunes of past regimes.
Peter goes beyond the ordinary and the pedestal of common political engineering. Heuncommonly became a leader whose support goes above party differences, religious diversities and localities. In his unique governance style rooted in service delivery, he worked his way into the hearts of his people and piously dispelled denominationaldiscrepancies as almost all political parties and opinions never saw him as an enemy. Some members of other political parties agreed with him, walked with him, and where faithful and committed friends of he's, hence they helped him at elections. His tactics are simple: Like Eisenhower as x-rayed by New York Times, Peter has an ability to harmonize diverse groups and disparate personalities into a smoothly functioning coalition.
The heart-warming sincerity with which he uttered his beliefs and their obvious role in fashioning his life created around him an atmosphere of uncomplicated goodness and uprightness. He is agovernor on APGA ticket but other parties agree with him; a Catholic with thousands of Anglican clergy and laity as well as Pentecostal faithful ready to fight for him. They all have him in their Sunday sermons. This is unprecedented! The strategy to move the governorship ticket to Anambra North Senatorial zone helped his party to win the election, as the PDP for instance, towed the same line, though belatedly. It was like a common political decision that buried partisanship.
It was this non-partisanship in the procurement and provision of public good that attracted the attention of President Goodluck Ebele Jonathan GCFR to this political raritywho identified and integrated him into the federal arrangement, party differences notwithstanding. He was appointed honorary special adviser on finance, the first time a governor will be so appointed. He serves the Federal Government with the utmost sincerity and commitment with which he serves his people thereby establishing a strong relationshipwith the Centre. No wonder the President vowed to perform the groundbreaking ceremony of the Second Niger Bridge in his tenure which he has just done few days to Obi's exit.What an honour! The lesson is simple: Anambra must continue to guard against unnecessary confrontations with the Centre so as to reap the benefits therein.
His indisputable discreet and judicious use of public resources marks him out asspecial specie in a seemingly shark-infested political terrain. His grasp of all financial strategies and details is simply overwhelming. 'Through strategic planning, prudent andtransparent management of resources, as well as reduction in the cost of governance, his administration achieved integrated and comprehensive development in all sectors without borrowing or owing anybody'. People shaded tears of joy when he told them that he hadN75Billion Naira in savings for Anambra State in the form of #25b in investments, US$155m in foreign currency investment, etc.
He is accountable because he understands that 'taxation without presentation is tyranny'. To many other politicians, he is abnormal to have left such fund when the trend is for a good number of public officers to milk life out ofstate treasuries. He behaves like the Dutch who, having a country house in the South of France bring their own toilet paper all the way from Holland for their stay. It is only in Obi that I see applause for prudential stinginess with public fund. Thus, he demonstrated his commitment to his mission by subjecting his policies and projects to peer review and for mapping of the state's poverty indices.
Without trying to catalogue all the achievements of Governor Peter Obi CON, one is tempted to state that with 801 kilometers of roads in the state, Anambra enjoys the highest road network in Nigeria as people can transverse all crannies of the state on tarred roads. At this point, one must credit Senator Chris Ngige OON who started the road revolution in Anambra State. Governor Obi changed the face of the state's tertiary and secondary institutions, built the State of the Art Library, the Jerome Udoji Secretariat, the ultra modern ANSU Teaching Hospital (Amaku), other hospitals and health institutions with theiraccreditations, intimidating Council Secretariats, cleared pension arrears, employed thousands of our youths, etc. He is the only leader of the state with the gut to handover 1040 schools to their original owners and now, the benefits are there. One can go on and on.
In spite of these achievements, Peter still showcases himself in his natural state and through the power of openness and down to earth disposition demystified the Office of the Governor as one occupied by human beings and which should only be occupied by those willing and disposed to truly and selflessly work for the people. The era of artificial governance is over; the time of intimidating and harassing leadership has gone. This is purely a revolution.
However, I wish to disagree with the governor on his claim that he is not a politician. If Governor Obi is not a politician, who is? Obi is a politician but the only difference is that he is not a typical Nigerian politician but the quintessential, whose vision in the process of authoritative allocation of values goes beyond the myopic confines of his pocket to the wider joy of distributive politics. This singular attribute as simple as it seems is the hardest attitude a leader in a corrupt political system could possess.
I saw people dumbfounded when the richest man in Africa and the world's 25th, Aliko Dangote, at the presentation ceremonies of the governor's Scorecard, narrated how he saw the governorseverally on normal passenger Airliners with across-the-counter-tickets, and how he offered him his personal arrangements which he was not sure the governor ever utilised. He is saving money for the state. The creamy audience was also told how Peter refused to accept a Gold Wristwatch from an old friend simply because the worth of that Wristwatch could assist in providing a bus to a school in dire need of it. At the end, he personally lost the Watch but got the bus from the same donor.
Opinions might be wondering why I chose to write on an outgoing governor who does not even belong to my political party. As an Anambrain and of course, one of its leaders of thought, I felt the need to appreciate a good outing, emphasise the relevance of doing the right thing by our leaders and the importance of advancing on the current politicaldispensation in the state. Never again shall we allow our dear state to degenerate into anarchy; never again shall we watch hand-akimbo as political madness take over the soul of our state. That is the reason we have to maintain the tempo and support the incoming leadership led by Chief Willie Obiano believing that leadership comes from God. We are talking about our state and not our differences.
The incoming Governor should also do well to not only toe the line of his predecessor but strive to do more than him. You should not do everything Peter did but do better than Peter. I am not eulogizing Governor Peter Obi CON, I also criticized him many times to his face and on the phone whenever I saw he went the wrong direction in governance of the state. I agree with Dr Ngozi Okonjo-Iweala that Peter Obi came, saw and conquered but adds that he also promised and delivered. Therefore, with people from all walks of life, I celebrate him as he has been able to prove that Anambra is not cursed but that its people were the cause of its past predicaments.
In conclusion, one cannot but recognize the role played by Margaret his wife who was instrumental in no small measure in making her husband a success story. I wish them well in their future endeavors.
Disclaimer:

"The views/contents expressed in this article are the sole responsibility of the author(s) and do not necessarily reflect those of The Nigerian Voice. The Nigerian Voice will not be responsible or liable for any inaccurate or incorrect statements contained in this article."
Articles by Mazi Oderaigbo