Chief Emeka Anyaoku On Former Gov. Peter Obi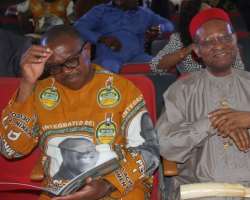 I was delighted when I received the invitation to come here because I believe this was an occasion to celebrate the success of a Governor in governance. Judged by many yardsticks that are applicable to states like Anambra State, there will be no doubt to any objective and non partisan person that Peter Obi has brought recognizable transformation to many sectors in Anambra State.
One of the ways of accessing the performance of governments in Nigeria and indeed across the world is to evaluate what the government has done and is doing with the collective resources of the citizens. Apart from the projects I have witnessed in my limited travels across the state, I have seen many pictures of many transformation structures implemented in this state by Governor Peter Obi's administration.
In the Education sector so many primary schools and secondary schools and even tertiary institutions have been rehabilitated and equipped with a number of facilities: bore holes, computers, buses, laboratories and so on. And above all, a number of schools founded by missions have been returned to the missions in order to return discipline and standard of performance they were known for before government took them over.
Peter Obi has not only built new structures but has also given new equipment to security service to enhance the performance of their job. He adopted a holistic approach in seeking the development of the state during his eight years tenure. He is leaving the state better than he found it and our prayer must be that his successor must see wisdom in continuity and in innovations designed for improving the state.