Nigerians Crave For Aso Ebi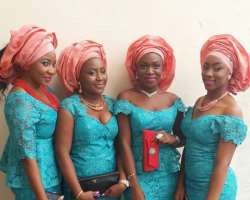 Today is saturday, so if you are not rocking an aso ebi u definitely will feed ur sight with many along the road, many people are rocking it to weddings and functions. It is a trend that seems to be advancing by the day, The Aso-Ebi is best described as a family uniform made from identically patterned fabric for a special occasion or event such as a wedding or funeral. In modern times, the wearing of Aso-Ebi has been extended to birthday and anniversary parties as well.
The contemporary Aso-Ebi is usually made of ankara, a trendy, colourful patterned cotton fabric, or the less-used adire, a resist-dyed fabric produced in West Africa.
the Aso-Ebi is a way of supporting or showing solidarity with the celebrant and one's family. I have no problem with wearing it for a once-in-a-lifetime experience, like a wedding- hopefully! – or a funeral, for a close family member. In fact, to me the Aso-Ebi phenomenon reminds me of wedding dresses (or bridesmaids' dresses, depending on how hideous they are!). You only wear them once and then they sit at the bottom of your wardrobe forever. You can't wear the same Aso-Ebi to two parties, as the guest of honour will certainly have their own choice of Aso-Ebi or someone will remember seeing the fabric before.
Oftentimes, money spent on aso ebi and other frivolities would be more judiciously used assisting the couple to start marital life on a more sound footing argued
Ohikhuare tunde, a business man considers it "shameful and extremely wicked of families of marrying couples to encourage them to waste money on such things as party apparels and other inanity. Some of these couple do not have a decent means of livelihood neither do they own the least expensive and essential household appliance yet their families would contribute money and push them to hold the grandest of ceremonies. Why not give them the money so contributed as a gift to support them?"
Ebunuwele destiny narrates her ordeal with this trend " I suffered in silence for 6months, because I wanted to be among my friends who will be recognised at the wedding we attended, so I had to buy the aso ebi costume which worth 30,000, I couldn't pay all in a short space of time, it brought ♍ε̲̣̣̣̥ a lot of embarrassment"