PDP Applauds Rivers Students On Protest Against Injustice
Says Action Vindicates Its Earlier Position on Fraud in Rivers Education Sector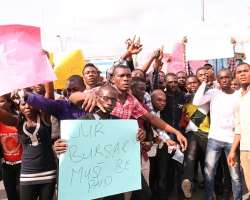 The Peoples Democratic Party, PDP, Rivers State Chapter expresses satisfaction over the consciousness of students of Rivers State extraction in tertiary institutions Worldwide, that prompted yesterday 's (Thursday, March 13, 2014) protest against bad governance by the Rivers State Government.
The Party applauds the courage and unanimous disposition of the students against monumental injustice and deliberate denial of their right to benefit from the bursary scheme of the government, which had been in place before the inauguration of the Amaechi government, noting that the students' action has vindicated its unshakeable position on the high level of corruption in the education sector in the State.
The PDP also sympathises with the neglected students, whose umbrella body, the National Union of Rivers State Students (NURSS) has been abandoned, disempowered and muzzled by the Rivers State Government, joining the students to condemn the refusal of the Governor to appoint a Special Adviser on Student Affairs to the Governor, who is supposed to represent the interest of the students and ensure the Governor acts responsibly on issues that affect the Rivers State Students Worldwide.
The PDP believes that denying the students their bursary entitlements for three years was a demonstration of the Governor's insensitivity to the plights of the students, who are the leaders of tomorrow, and pride of the State.
The Party notes that any government that turns deaf ears to the cries of the youths and students is a failure, and does not worth its name and also deserves not to exist.
The PDP therefore admonishes the students and their leaders not to be intimidated by the oppressive tendencies and actions of the Government aimed at causing division and acrimony amongst them but to remain firm and determined until the battle is won.
Signed:

Jerry Needam
SA, on Media to
State PDP Chairman, Bro. Felix Obuah.

Friday, March 14, 2014
IMG 2679
IMG 2687
IMG 2690
IMG 2696