Hand Over Now, Maxi Okwu Tells Victor Umeh As Court Adjourns Ruling On Suit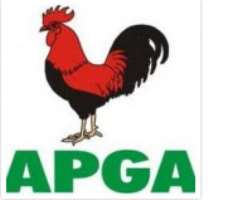 Factional National Chairman of the All Progressives Grand Alliance (APGA), Chief Maxi Okwu, has told his rival, Sir Victor Umeh, to hand over to him without any further delay.
Okwu, who has been locked in a tussle for the position with Umeh since April last year, made the demand this morning while reacting to the adjourning of the ruling on Umeh's suit seeking a stay of execution of the January 15, 2014 judgement of Justice Abdulkadir Abdul-Kafarati of the Federal High Court Abuja declaring Okwu as the validly elected National Chairman of APGA.
The court was to have ruled on Umeh's suit this morning but adjourned till March 13.
Asked for his reaction to the adjournment Okwu, speaking through the Acting National Publicity Secretary of his faction, Mr. Stanley Chira, told News Express:
"We have no reason to be disappointed because the adjournment is in our favour. Umeh was the person that applied for stay of execution. Since he has not been able to get it, it means that Maxi Okwu remains the authentic National Chairman of APGA. Umeh should, therefore, honourably hand over to Maxi and concentrate on his senatorial quest."