Black History Month: AFCRC Congratulates African American, Others Who Supported Nelson Mandela To Defeat Apartheid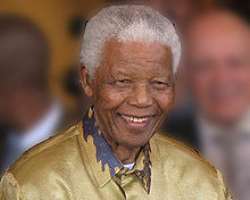 African Cultural and Fundamental Rights Council, AFCRC USA, is seizing this wonderful occasion of Black History Month (BHM) to congratulate and celebrate all those around the world who stood firm to oppose apartheid in South Africa and their support for other good causes in Africa and globally. We're pleased to especially thank and celebrate all the African Americans who stood behind late Dr. Nelson Mandela, as he and the African National Congress (ANC) fought to oppose and defeat white minority apartheid regime.
The Congressional Black Caucus (CBC) in America and other conscious and conscientious blacks and non-blacks understood the popular slogan of Dr. Martin Luther King Jr., which says, "Injustice anywhere is threat to justice everywhere." Of course, King was killed in cold blood for leading African Americans (Blacks) to nonviolently fight institutionalized inequality, injustice and gross racism or discrimination against them by whites.

The action of the Congressional Black Caucus (CBC) and others pushed American Congress to part ways with the Ronald Reagan administration, which like many Republican lawmakers supported the apartheid regime, and was still doing business with South African Government despite congressional clamor and public outcry. In short, Reagan vetoed a legislation that called for economic and otherwise sanctions against South Africa. This, like those sponsored by some European countries and Japan, was a measure aimed at granting the apartheid operators some rethinking for respect and equal treatment of blacks.
But the American Congress summed the courage to override that veto and passed the 1986 Comprehensive Anti-Apartheid Act (CAAA) reported to be the most effective measure that forced the hands of South African Government to systematically and finally end the discriminatory and brutal regime, which didn't see black South Africans as human beings in their natural land.
The end of apartheid brought about by the African National Congress (ANC) resistance up to arms bearing for self-defense and protection of the black community and heritage, public pressure from America, Britain, where Prime Minister Margret Thatcher stood firm in support of the government of South Africa led to Mandela's running as a candidate in the first open and free election in 1994. By this opportunity he became the first elected black president of South Africa. For a better foundation of South Africa, he chose reconciliation against retaliation, though died in December 2013, having completed a one-term president promised in 1999.
Following the active involvement and sacrifice of some African Americans, AFCRC deems it necessary and fit to make special mention this Black History Month (2014), of names such as Randall Robinson. He's the founder of TransAfrica and co-founder of Free South African Movement, who organized the first sit-in to draw the attention of the public and American Government. Rev. Jesse Jackson, the founder of Rainbow Push Coalition, who worked tirelessly and was in South Africa pushing and waiting for Mandela's release, hence reportedly the first African American to see Mandela on the day of his release from prison in 1990, is another heavyweight in this honorable mention.
Harry Belafonte, Eleanor Holmes Norton and Marion Barry Bill Lucy, Black Congress Women Maxine Waters and Barbara Lee are honorable members of these African American warriors who bore witness to the truth and justice, equality, fairness and understood the true meaning of freedom to fight and help free Mandela and South Africa in general. In short, it's reported that Congress Woman Lee was the one who took the message home from South Africa's Arch Bishop Desmond Tutu; a staunch human rights and freedom fighter that Mandela, like many other South African officials, was still unjustly on American terrorist list.
This was even after he visited America upon his release from prison in 1990 under Bush, 1993 in Philadelphia as a recipient of the Liberty Medal Award for Mandela and Bill Clinton's White House respectively. With Lee's assistance therefore, and the involvement of Dr. Condoleeza Rice, Secretary of State and National Security Adviser under George W. Bush (who also awarded Mandela the prestigious Presidential Merit Award in 2002) helped to bring about the declassification of Mandela as terrorist in 2008.
It's indeed ironical that Mandela was still treated as a terrorist under President George H.W. Bush and Bill Clinton when he visited them. While H.W. Bush declared in 1990 that, "Mandela was a man who embodies the hopes of million," he's still a terrorist to him and his government. Clinton also honored Mandela with a State Diner in 1994 and Congressional Gold Medal in 1998. Yet the man he's honoring was a terrorist to him and his government as well. Why was such unholy classification irrespective of the brutality black South Africans and Mandela faced under a minority white apartheid government supported by America and others of the West?
Mandela, like Americans who fought the British under colonization helped to organize armed struggle to free blacks from oppressive white government. Israel also supported apartheid in South America, maybe to grant rationale and cover for its apartheid against Palestinians, even though AFCRC encourages nonviolent- bilateral/multilateral approach and calls on Palestinian militants such as Hezbollah to stop the assaults and killing. This happens via rocket launching into Israel's neighborhood. As such we also call on Israel to stop the apartheid against Palestine and sue for peace so the two-state vision will come to fruition.
Having said the above, while we celebrate these wonderful people and countries, we're also seizing this golden opportunity to humbly and respectfully remind them that the struggle isn't over. It isn't over in America; not in places such as Central African Republic or Ukraine, China and its Tibetans and Greece. Not in the Middle East or Eastern Europe, United Kingdom or France. The struggle isn't won in Congo or Nigeria among other places.
Let's take Nigeria, for instance. The establishment controlled by the so-called major ethnic groups (Hausa-Fulani, Yoruba, Igbo and certain politicians from other ethnic groups such as current president Goodluck Jonathan) uses harsh and discriminatory economic and political measures to oppress, deny the population the respect and decency, development they deserve. In same Nigeria the so-called minorities of Niger delta and others of the country have been deprived their right to self-determination, which brings political, economic freedom and progress.
Meanwhile, it's worthy of note that most if not all African countries were against apartheid South African Government. They supported the black (ANC) struggle in South Africa, thus lend credence to the militant angle of the struggle alongside peaceful dialogue. As a result, this BHM congratulations and celebration will not be complete without mentioning the contributions of Africa, which helped to free Mandela and South Africa, thus contributed to world development and peace as always despite its many political and economic contradictions and conflicts. The American students, like in other countries, who supported, organized and canvassed a U.S. divestment policy against South Africa (then student Barack Obama was one of them) can't be skipped in this mention. AFCRC is happy with and proud of you all!
Finally, because your work paid off as we saw Mandela freed, and we can also see a free South Africa, the peaceful and nonviolent, intellectual and mobilization, protest and pressure struggle must not end with South Africa and America or few other countries or peoples. Rather it should continue until the entire world is free of oppressed peoples; until true freedom, equality, equity and justice reigns in all corners of the world. Happy Black History Month, which is a huge part of world's history!
Disclaimer:

"The views/contents expressed in this article are the sole responsibility of the author(s) and do not necessarily reflect those of The Nigerian Voice. The Nigerian Voice will not be responsible or liable for any inaccurate or incorrect statements contained in this article."
Articles by Ben Ikari