NATIONAL CONFAB, APGA Canvases For Parliamentary System Of Government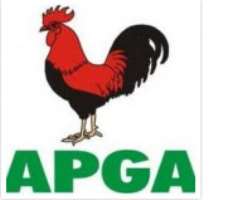 As the country prepares for National Conference, the Deputy National Chairman of All Progressive Grand Alliance (APGA), Hon. Chris Uche has canvassed for parliamentary system of government, describing it as the best government suitable for peace and unity of Nigeria.
Hon Uche who stated this in a chat with Orient Daily, posited that division of the country is invisible, having attained 100 years successful amalgamation by colonial masters, even as he added that cabinet will entrench massive socio-economic development in Nigeria.
According to him, those clamouring for disintegration should forget about it for now because the national conference was aimed at thrashing out issues of national importance and modalities to be adopted in moving the country forward.
He said: "We are yearning for peace and unity in diversity. Unity in diversity is more advantageous than division. It will make us to be stronger and productive. Is true we have diverse ethnic nationalities and religion, yet that doesn't mean we should go separate ways. The United States of America is still one despite such diversity. So, I am urging all delegates to think and brainstorm on ways forward".
"Nigeria needs parliamentary system of government. I have been chose to represent my party. And I am going there as a technocrat and unity driven Nigerian. This confab will address all issues bordering our Dear nation. It is a meeting of brains of our land. Indeed, we are blessed with best brains, captain of industry among others.
Therefore, let's put sentiment aside. Our representatives should be individuals with the qualities apt for the discussion. Individualism and selfish interest shouldn't over shadow public interest. We must speak in one accord. Needless to war over who is to represent who at the conference, since our major aim is to champion betterment of the country", he added.
He further stressed that: "Practicing cabinet system of government shall weaken the center and address the agitation for power shift as well as create avenue for each components units to work assiduously for development of its state, thereby ensuring competition, attraction of foreign investors, encouraging local companies to thrive, employment, security of lives and property and so on".