Monarch appeals to President Jonathan make Badagry religious tourist site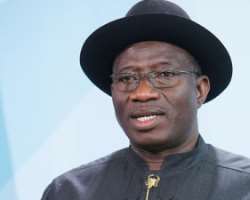 The Akran of Badagry, De-Wheno Aholu Menutoyi, has made a passionate appeal to President Goodluck Jonathan, ‎to work together with Lagos State Government in making Badagry town a religious tourist centre, being the first place Christianity was preached in Nigeria.


He made the request when President Jonathan paid him a private visit on Monday in his palace.
The Akran who with President Jonathan had retired to an inner room in the palace where they held private discussions for about 35 minutes, after the welcome ceremony, said that the visit, though private, was special to him and the entire Badagry people.

He told the President that Badagry was the first place in the country where Christianity was preached.

He assured the President of his support and that of all the Badagry people to the federal government.

The President thanked the monarch and the people for the peace in the land, which he said was brought about by good leadership.

He also assured that the government would do its best to return and preserve the glorious day of Badagry.

"I want to thank you all for the support you have given to the government and for the peace in Badagry.

"Within this period we do not get disturbing stories. This is not brought about by chance but his Majesty, his cabinet and all senior people including the youths have been working very hard.

"Also for the PDP members who have come out to receive us, we thank you most sincerely.

"I want to thank you for this warm reception and assure you that the glorious days of Badagry will be returned," he said