D'BANJ AND GENEVIEVE NNAJI IN SIZZLING HOT ROMANCE!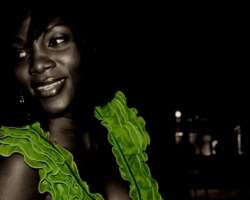 In what must be the biggest piece of news to hit the entertainment scene this year, it has been revealed that two of Nigeria's biggest stars in the music and film industry D'Banj and Genevieve Nnaji are reportedly in a sizzling hot romance! Our sources reveal that the two have been meeting on the down low for sometime now but unfortunately some eagle-eyed journalists got
wind of it and tried to black mail them in a bid to make some quick money. It was then that D'banj decided that rather than being blackmailed he would come out with the news. He granted an interview to gist merchant, the effervescent Stella Dimoko-Korkus of Stella's Groove. Find bellow some excerpts.
SDK: So you are in a relationship with her and you used her for the shooting of the video of ''fall in love''.you must have been looking at her whilst you were singing.were you really telling her your feelings?were you just singing or talking to her?
D'Banj: ....I am in love with Genevieve, its been long I felt this way about anyone. I dont know what other words to use to qualify my feelings but when you see the video,you will know that its not just a video,it was me talking to my girl for real.
SDK-D'banj you have been reportedly spotted with a lot of ladies,you have supposedly dated high profile celebrities,they say you are into sexual orgies,you like to have sex before you go on staget to perform and after .Why have you chosen to step out with Genevieve Nnaji officially as a couple?
D'Banj: ...None of them have has been true,like you said ''rumoured'' but it is Genevieve and this is the first time because this is the truth.
SDK-So what is this?A marriage headed relationship?
D'Banj....Oh well,like I just told you now, Genevieve is my girlfriend, infact I dont like using that word, shes my baby, she's my everything and I love her. We are both very mature people and we are also very private people. There's a big difference between our public lives and our private lives. We would like to take it one step at a time right now and would appreciate it if people will respect our need for privacy at this time.
SDK: -Need for privacy? D'banj when the news of this relationship hits the streets, I am sure you both know what will happen next.there will be talk everywhere, stories about whom you both have been with, the press will do a re-run on you both in every way they can.my question is, are you both ready for this?
D'Banj....(breathes deeply)well,what can I say? Like I said Genevieve is the biggest african star that i know and i am also in the public eyes so it is to be expected but i personally do not care about any news that wants to come out,like i am telling you,i have been rumoured to have dated people i have never even met before .
For once,i am very proud of whom i am with,when i met genevieve i knew what i wanted and i went after what i wanted and i am still with what i want,and shes the one i want, they can say anything they like.people know me as an entertainer and i will do what i do on stage and off stage i live a private life,people think they know me, they say all sorts but no one really knows anything about who i am and i like it that way.
Right now,the only woman in my life is Genevieve and she knows that.we dont know about tomorow so we are taking one day at a time,right now we want to be together and we dont want to hide it anymore.i want to be able to take her out,walk into anywhere with her and not have to hide,we are both single so we are not committing any crime.
Hmm…what say we? Certainly sounds like a man in love doesn't he? So what do you think? A match made in entertainment heaven or a publicity stunt? As they say, 'morning will show the day'…lets wait and see. Meanwhile congrats to the two love birds!
Story by nollywoodgists.com/Bola Aduwo