I'd Love To Settle Down –Dakore Egbuson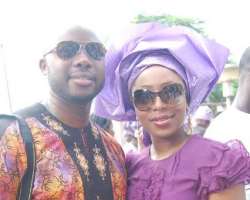 Dakore Egbuson and Olumide Akande
Dakore Egbuson is not the kind of actress that can be spotted just anywhere and anyhow. Her mission and vision in the entertainment industry as a whole is very clear to her and she sure knows her way around.
According to the Bayelsa indigene, who doubles as ambassador for Amstel Malta and spokesperson for Amnesty International and Oxfam of America for the control of arms and ammunition, her rise to fame was as a result of her brilliant performance in her fifth movie, Emotional Cry and she has not looked back since then.
"I was on the campus of the University of Lagos (UNILAG) but was unable to complete my degree programme because I left in the third year as a result of incessant strikes and went to London to develop my talents. In London, I started working as a presenter on BEN TV and was on the Black Variety show with Ronke Apampa. There I started doing music and performed at big events with top acts like Tony Allen and Weird MC. But before I left for England, I had starred in four movies Silent Tears, Play Boy, Tentacles and She Devils. The movies came out when I was trying to build a career and was away in London in 2000 but after the movies came out, people were so impressed with my performance and they persuaded me to come home that Nollywood is really doing fine and all that. That was how my acting career blew up. I won an award for my role in Emotional Cry, which was my fifth movie. Emotional Cry, which was released in 2003 shot me into limelight and I rose to stardom. That, of course, was a turning point in my life," she recounted.
This first child of a building contractor and caterer reeled that the discovery of her talent is as a result of her parents' encouragement, which included paying for arts lessons and enrolling her in a school that would help notice her talent early in life.
"I am the first born of my family. I have three brothers and a sister, my father was a building contractor. He had his own construction company and worked with Shell for several years. He is now retired and in the United States. My mum is a caterer and at the same time taking care of the home. My father knew me as an artiste as a kid and he encouraged me. He paid for the recorder lesson, sent me to good schools. In a way, my background has really helped my acting career. I went to Corona School, Gbagada, Lagos one of the best schools in Nigeria, which I am very proud of. It was at Corona that I discovered my talents. I always loved to act, dance and sing. I was a member of the choir and was everywhere doing something. I got a lot of time to express myself artistically," said the dazzling actress with stunning modelling features.
How she has been able to maintain her unusual lifestyle, which is devoid of the everyday celebrity lifestyle is what she has termed as the grace of God and her ability to learn very quickly in life.
"When I started out it wasn't my intention to be famous. I had a talent and I was excited about my talent and where it would take me. Fame is as a result of being an actor because I wasn't prepared for it. It is by the grace of God because I can't take any credit for it. Naturally, I am a very boring and low-key person. I don't go out that much. I am not the type that you see everywhere and that has always helped too. I don't have too many friends."
Though Dakore is not one who would readily tell the world about her private life, she still accepts the obvious fact that she is all over the moon with a certain young man. The young man, of course, is Olumide Akande.
"Oh yes there is a man but I wouldn't want to talk about it. I'm not talking about him. I am a woman and I would love to settle down and have my own family someday but first, I have to ensure that I am in the right place at the right time. It would definitely happen but I am not anxious," she said tersely.
The Amstel ambassador noted that she is happy to get the job, "I just got a call that they wanted me for an Amstel Malta advert and that was it. Amstel Malta was my major hit and it was amazing. I am proud of it. We shot the commercial in South Africa. It was my first time in South Africa. I went with a world-class crew. I had my own wardrobe, a make-up artiste. People love the advert and they praise me on the road that the advert is good. Amstel Malta has supported Nollywood in a big way and I am very honoured to be its model."
Dakore, who is still passionate about her music career, also said that she is doing all within her reach to stage a successful outing and not just sizzle like some of her fellow Nollywood colleagues.
"I am doing what I can to have a successful outing. And that is why I took it to Los Angeles in the United States, working with Akon's producer and people who have been in the business for over two decades. I am also coming out with my talk show entitle Dakore Show."
Dakore, who has her mum, Oprah Winfrey and late Alaere Alaibe as outstanding role models, said about her dreadlocks: "I am only trying to create an identity for myself, it is the hairstyle that I'm comfortable with, I have been growing it for years now and it's been wonderful, my hair is growing and people admire me."
Story by nollywoodgists.com