Anambra Elections Petitions Tribunal: Group Commends Obiano's Respect For The Judiciary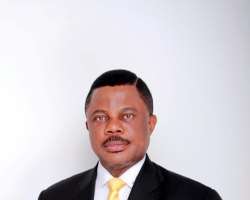 A civil rights advocacy group, The Forum for Positive Change, FPC, has commended the Governor-elect of Anambra State Chief Willie Obiano, for his steadfast attendance and active participation in the sittings of the Anambra Election Petition Tribunal, Awka since the beginning of the proceedings. Speaking during a chat with journalists in Awka on Saturday February 15, 2014, the President of the group, Barrister Okechukwu Chinweze, a Lagos-based lawyer who hails from Ogbunike in Anambra State, said that it is a mark of respect for the Judiciary and leadership by example that the Governor-elect is always present when other parties who instituted the various petitions never appeared since the Tribunal commenced sitting.
According to Barrister Chinweze, "how could anyone ignore his humility and exemplary conduct? It is re-assuring to note that Obiano is fast carving a public image of a humble, serious minded and unwavering leader capable of building and sustaining the humble disposition and a firm approach to governance which set Governor Peter Obi's administration apart. Although no two persons are ever the same, we are encouraged by Obiano's early signs of seriousness."
The civil rights activist also expressed concerns that political jobbers and rumour mongers have, as usual resorted to the rumour mill to fan the embers of discord between Governor Peter Obi and the Governor-elect alleging that "Peter has emptied Anambra's coffers through his numerous donations and that Obiano would have no money to work with." Even the successful Local Government elections held recently is being used by the same persons who complained that it was never held in the past to create non-existent and unnecessary distraction," he observed.
Said Barrister Chinweze; "The Forum for Positive Change calls on the indigenes of Anambra to ignore the rumour mongers and maintain eternal vigilance, especially in this transition period so as to ensure a smooth hand-over on March 17, 2014. The recent constitution of a Transition Committee by Governor Peter Obi is also an indication that the plans and programmes for a smooth hand over are on course."
The Anambra Election Petition Tribunal sitting in Awka, currently going through pre-trial proceedings had on Friday adjourned till Monday February 17, 2014.Group