FG's failure to produce witnesses stalls Ndume's trial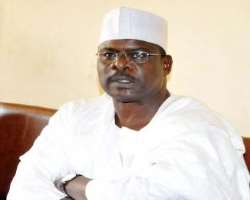 The inability of the prosecution to produce witnesses on Thursday stalled the trial of Senator Aliyu Ndume, who the Federal Government accused of sponsoring the Boko Haram sect.

A major setback had already been encountered in the trial when the Court of Appeal overturned key evidence which the prosecution relied on to prove the case against the Senator.

And at the continuation of the trial before a Federal High Court in Abuja on Thursday, presiding judge Justice Gabriel Kolawole had to adjourn proceedings after witnesses scheduled to testify against Ndume failed to turn up in court.

Only one witness, Aliyu Baka, a security operative, turned up to confirm a statement he obtained from the Senator.

After Baka's testimony, which lasted just a few minutes, the prosecution was expected to proceed with the trial by calling other witnesses.

But prosecuting counsel, Thompson Olatigbe, informed the court that three other witnesses he invited were not available.

The prosecuting counsel asked the judge to adjourn the trial.

Following the development, Justice Kolawole adjourned the case to March 31.

Ndume's trial had suffered a setback on December 17, 2013, when the Court of Appeal, Abuja Division, overturned the admission in evidence of records of mobile telephone conversations between him and a former spokesman for the terror sect, Ali Konduga (aka Al Zawahiri).

Trial judge, Justice Kolawole, had in two rulings on December 11 and 14, 2012, admitted in evidence, DVDs containing results of the forensic analysis of two mobile telephones said to be retrieved from Ndume and Konduga, which included call data records.

The DVDs were tendered in court by the State Security Service.

Following the development, Ndume, though his lawyer, Rickey Terfa, SAN, approached the Court of Appeal to challenge the admission of the DVDs.

The defence counsel argued that the DVDs, which were computer generated, did not meet the criteria required for the admission of computer generated materials as evidence under the Evidence Act.

In a ruling, the panel of justices of the Court of Appeal upheld the two appeals filed by Ndume.

In a judgment read by Justice Amiru Sanusi, the appellate court faulted the admission of the materials in evidence by the Abuja FHC. NAN