Controversial Rivers State Police Commissioner Mbu removed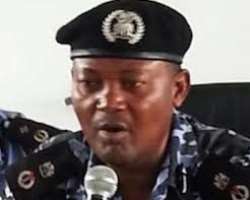 Controversial Rivers State Police Commissioner, Joseph Mbu, was on Thursday transferred out of Rivers State Police Command and posted to the Federal Capitla Territory, Abuja.  has been
The Police Service Commission (PSC), Thursday, announced the redeployment of the police boss to Federal Capital Territory, Abuja.
According to the PSC, Johnson Ogunsakin of the Special Fraud Investigations Unit, Lagos is the new Rivers Commissioner of Police.
The PSC also said 12 other commissioners were affected by the shake up based on the recommendations of the Inspector General of Police.
Mbu's tenure in Rivers State was marked with controversy as had a running battle with the Rivers State Gover, Rotimi Amaechi, who claimed severally that the police chief wasplotting to assassinate him.
The Governor accused the Presidency of backing Mbu as he worked in dissonance with the state government.
A number of rallies organized by pro-Amaechi groups were violently disrupted by the police, which claimed that the groups did not obtain police permit.
Earlier this week, Mbu announced a ban on public rallies in Rivers State.