Jonathan says SURE-P as employed 190,000 youths so far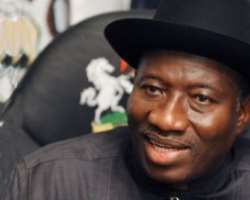 President Goodluck Jonathan has disclosed that Subsidy Reinvestment and Empowerment Programme (SURE-P), which since inception in 2012 had become critical unit of his administration's  transformation agenda, has so far employed over 190,000 youths under various categories.

He made this disclosure through the Minister of Labour and Productivity, Chief Emeka Wogu, who represented him at a stakeholders forum on the Subsidy Reinvestment and Empowerment Programme held inside the Presidential Villa, Abuja.

The President also assured of his administration's determination to continue to impact positively on the infrastructural needs of the country, adding that SURE-P has also massive intervention in railway, road construction and health among others.


Earlier in his remarks Governor Idris Wada of Kogi State thanked the Federal Government for introducing the intervention programme which he described as laudable, saying its footprints are all over the place in his state and other parts of the country.

He said, "In Kogi State,  our first focus was on youth employment and empowerment. The first target was school drop outs. So far, we have trained about 6,000 youths.

"We started with 500 youths per quarter who are trained at the NYSC orientation camp. They are taught various types of orientation. We have also used the fund for rural roads."

The governor however appealed for an increase in the amount accruable to states under the programme.

The acting Chairman of SURE-P, Gen. Martin-Luther Agwai (retd.), agreed that there were obvious challenges in the implementation of its programmes.

Agwai explained that the the forum was therefore meant to review past operations to assist the programme to fulfill its mandate.