Iyabo Ojo Has Droped Her Ex Husband's Name; Changes To Maiden Name 'Ogunro'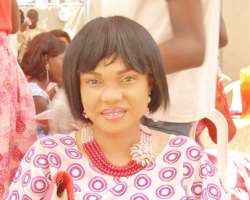 Nollywood actress Iyabo Ojo was 21, when she married a Lagos-based movie marketer who introduced her to Nollywood. After 2 kids with marriage issue, she left him, among other controversies, In 2013, Nollywood actress Iyabo Ojo was rumoured to be dating fellow actor Muka Ray.
Unlike her colleague in the Nollywood movie industry, Fathia Balogun who insisted on using her ex-hubby's name, movie producer and Fespris CEO, Iyabo Ojo recently told fans she will be changing her last name soon.
The actress who dumped her ex-husband and the father of her 2 children a while back said she is ready to move on.
On Wednesday, the 22nd of January, 2014, Iyabo Ojo told fans she will also be changing her movie production company from Iyabo Ojo Films Production to Fespris Production.
'Attention! Attention!! Attention!!! To all my fans and love ones, I will not be using IYABO OJO FILMS PRODUCTION as my movie production name! FESPRIS Production is my new movie production name from henceforth as I will be dropping d name 'ojo' soon :x;). From d stable of Fespris production… Comes 2 outstanding movie TENBELU & SILENCE #sayNo2childabuse' – Iyabo Ojo said on Facebook
Click the link below to go to...
Exclusive Picture: Majid Michel's Love Child In South Africa He's Been Hiding
HELICOPTER CRASH: RAMSEY NOAH, TIMI DAKOLO LIE
GT Bank Re-Affirms Commitment To Secure Banking
TONTO DIKEH BREAKS SILENCE…WRITES TO NIGERIAFILMS.COM
Alleged Fraud:: Iyanya 'Kukere' Wanted By The Police
Halima Abubakar, Uti Uwachukwu, Zaky Azzay Draw Many To Charity
PICTURES: Terry G Acquires Range Rover Sport...Calls It Carton