Ogun APC Crisis: N'Assembly Members Accuse Police of Complicity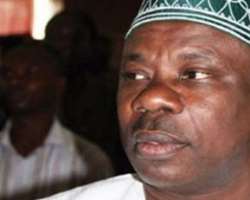 Following the unending crisis rocking Ogun State chapter of All Progressives Congress (APC), ten members of National Assembly from the state have petitioned the Director of State Security (DSS) accusing the state governor, Senator Ibikunle Amosun and the State Command of Nigeria Police of sponsoring violence in the state.
The petition was jointly signed by Senator Gbenga Obadara, Senator Gbenga Kaka, Senator Akin Odunsi, Hon. Olumide Osoba, Hon. Abudu Balogun, Hon. Kehinde Oduneye, Segun Williams, Adekunle Adeyemi, Bukola Buraimoh, Babatunde Ogunmola.
However, when contacted on phone, the State Police Public Relation Officer, DSP Muyiwa Adejobi, briefly said 'we have no comment', saying until the Command receives copy of the said petition.
According to the petition, 'we have reasonable cause to believe that the Ogun State Police Command has been compromised, thus the complicity of the police men present there. What saddens our heart the most is not that these villains committed the acts they did, but that there were policemen who should have stopped them present but who did nothing'.
A spate of violence has trailed the various activities of the APC in the state. Recently, ten persons were shot as suspected political thugs attacked guests at a function organised by a senator of the ruling APC in Wasimi, Ogun State. It was the second time in about one week that party members in the state would resort to violence to settle their differences.
However, the lawmakers stated in the petition titled: 'Threat to lives, Breach of Peace/Security and Police Complicity' that 'we implore you to use your good office to look into and address this issue of thuggery, breach of peace and security, Police complicity, among others'.