Three presidents begged me to join PDP - Obi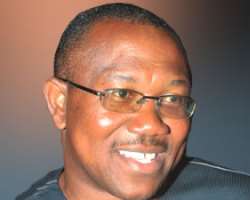 Anambra State Governor, Mr. Peter Obi, on Saturday said three Presidents had at different occasions asked him to join the ruling party but he declined due to his vision for the All Progressives Grand Alliance (APGA).

Obi disclosed this at a National Executive Council meeting of his party in Awka, the Anambra State capital.
He said, 'I was tempted by three Presidents to leave APGA. The first was President (Olusegun) Obasanjo. The second was President (Umaru) Yar'Adua, who invited me and the (then) Governor of Imo State, Ikedi Ohakim, but I didn't join (the party). They told me you (Obi) have the future, you have this…' the governor said.
The NEC of APGA at the meeting passed a vote of confidence on the Victor Umeh-led national executive of the party.
The motion for the vote of confidence was moved by the Oyo State Chairman of the party, Mr. Samson Olalere, and seconded by the Bayelsa State Chairman of the party, Mr. John Sokari.
The confidence vote came barely three days after the Federal High Court in Abuja, in a judgment, removed Umeh as the National Chairman and ordered INEC to recognise Mr. Maxi Okwu as national chairman.
Umeh explained that his leadership and the meeting was covered by a subsisting judgment of the Court of Appeal, which nullified the judgment of an Enugu High Court that previously removed him as national chairman.
'All infractions by a lower court have nothing to do with our legality,' he said.
The NEC also went ahead to ratify the appointment of Governor Peter Obi as the National Leader and Chairman of the Board of Trustees of the party, which was vacated by Chief Chukwuemeka Odumegwu-Ojukwu on his death two years ago.
It also appointed 30 members of the BOT, including six women. It, however, stepped down the inclusion of former Minister of Health, Dr. Tim Menakaya, as a member of the BOT following objections raised by some members.
The NEC authorised the National Working Committee of the party to fill existing vacant posts in the committee.
The next national convention of the party was fixed for February 15, 2014.
The meeting was addressed by Obi, who spoke about the tortuous journey the party had undertaken since 2003 and promised that he would always be around for the party.