Chelsea not desperate to win the Premier League title - Mourinho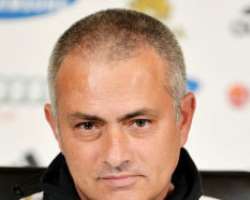 COBHAM (AFP) - Chelsea manager Jose Mourinho insisted on Friday the club were 'not desperate to win the Premier League title' this season, saying he was more concerned about long-term success.
And ahead of his side's match at home to Manchester United on Saturday, he said there was 'no reason' for Red Devils manager David Moyes to be in trouble, despite the champions' faltering form.
Chelsea head into this weekend's matches in third place, just two points behind leaders Arsenal.
United, however, are 11 points off top spot and nine adrift of Chelsea.
Mourinho, who guided Chelsea to back-to-back titles in 2005 and 2006 in his first spell at Stamford Bridge, returned to the London club before this season.
But he was adamant he was in no rush for more success.
'We are not desperate to win the title, I keep saying the same,' he told reporters at the club's training ground on Friday.
'We want to build a team for the future, find a transition between the Chelsea of the last decade and Chelsea of the next decade. But we will try to fight for the title until the end.'
The Portuguese added: 'Everyone's going to lose matches I believe.
'Let's see what is going to happen unless Man City (currently a point behind Arsenal in second place) win every game and kill everyone with 20 points difference.'
Were United to lose at Stamford Bridge on Saturday it would be another blow to their hopes of Moyes defending the title won by former United manager Alex Ferguson in his final season before retirement.
Yet while many have sympathised with Moyes in having to follow Ferguson, British football's most successful manager, Mourinho said his rival manager was in an enviable position.
'I said before, I don't think there's a reason to have sympathy. He has a fantastic job and is very, very stable.
'The club gave him an incredible trust when they chose him to be the next United manager after Sir Alex.
'They believe in the power of the manager, the support of the manager. It's not because they had a couple of bad results and aren't top of the league, as they normally are,' Mourinho explained.
'There's no reason for David to be in trouble. He's very stable. He will have at least the time of his contract to build a team, to reach success, and to be there for many years. I don't think he needs sympathy. He has a fantastic job and no problems.'
Asked to account for the differences between Chelsea and United's results this season, Mourinho said: 'No two seasons are the same. Some teams improve. Others don't.
'Some players have a phenomenal season one season, then injuries or don't perform the next. Some players have problems with managers or playing.
'Globally, our team is a better team. It improved not just in terms of what we do in the present, but especially in terms of what we're building to build the future.
'And I think, also, by the individual point of view, not all, many of them are improving a lot as players. So I think we're doing a fine job.'
Meanwhile, Mourinho said Nemanja Matic would not start against United after coming back to Chelsea this week following the 25-year-old midfielder's transfer from Benfica, three years on from being used as a makeweight in the deal that brought David Luiz to Stamford Bridge.
'Matic is not starting the game. I feel that I owe that respect to my players. He's my player now, but I owe this to my other players.
'They are doing well and playing well. It wouldn't send the right message to them if a new player came and immediately played in the team. So I won't use Matic from the beginning.'