Ex-Ondo Commissioner Akerele Dies At 53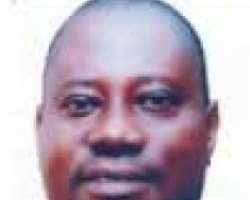 A former Information Commissioner in Ondo State, Ranti Akerele, yesterday, died in his sleep.Akerele, 53, a renowned broadcaster was appointed in 2011 by Governor Olusegun Mimiko as his pioneer Information commissioner. Ondo State residents were shocked yesterday to hear of the sudden death of the Labor Party chieftain.
His remains were deposited at St. Mercy's Hospital.
It was learnt that the late Akerele got home around 9pm on Monday after visiting his wife, Lucy, who is hospitalised.
Sources said he directed his gate man, Mr. Taye Festus, to switch off the generator at midnight and retired into his bedroom.
Festus told reporters that the late Akerele was hale and hearty before he went to bed.
He said: "I was expecting Oga to have woken up early but he did not, even after his new driver arrived. We became suspicious around 10am when we did not see him. I went to his window and called him, but he did not respond.
"I opened the window and saw him lying on the bed. I called him, but he did not answer; so, I raised the alarm and people rushed to our compound. I called a carpenter close to our house and we forced Oga's bedroom door open. Oga was just lying on his bed.
"His wife came home with a drip fixed to her hand, but she was taken back to the hospital by sympathisers.
The late Akerele, who was a pastor in the Redeemed Christian Church of God (RCCG), is survived by his wife and children.
The deceased, an indigene of Idoani in Ose Local Government Area, was one of Governor Olusegun Mimiko's close associates.
He was active in the struggle to retrieve Mimiko's mandate between April, 2007 and February, 2009.
The late Akerele handled the Labour Party's (LP's) publicity at Mimiko's Temporary Situation Office at A&T Presidential Hotel in Akure, from where he dished out information across the country daily about his principal, especially through the electronic media.