I LOVE TALL, HANDSOME MAN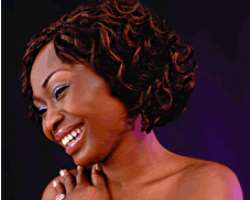 WAZOBIA FM 's Matse:
I love tall, handsome man
By CHRISTINE ONWUACHUMBA
Friday, March 12, 2010
Matse
Perhaps it is her down-to-earth originality that has captured andenthralled her listeners. The moment Matse Uwatse 'the queen of the air-waves' comes on WAZOBIA Radio Station, everyone is glued to the station. Matse, as she is popularly called, is a favourite female radio celebrity.
After years of listening to heavily accented English or American wannabes, Nigerians have found a home voice they can connect with. She told Daily Sun her magic, her formula:
Background
'I'm the first of eight children so I have seven siblings. I'm an Itsekiri from Delta State. I'm a full-blooded Waffarian, schooled at Delta State University and Universite du Benin in Togo. I am polyglot as I speak English, French, pidgin and a little bit of German. I am a very creative person. I read a lot and I also write. I do interior décor. I'm a bunch of so many things.
On-air flops
'You have to be mindful of what you say. If it is a vocabulary mistake it is pardonable, you can get away with it if you can play with it. Though it is not the same for news reading. Personal philosophy of life e.g. politics, religion and so on also are areas an on-air personality should tread carefully. An on-air personality should learn to be neutral. The show should not be about your opinions. For me when I make grammatical errors I laugh at myself a lot. Though I must say it is not all people that have the gift to play with their mistakes. Don't say anything blasphemous on air; there are certain mistakes one should not make. An on-air personality is not just a job it is a responsibility.'
Difficult callers
'In percentage, I use to have just two percent of supposedly 'bad calls,' that is if you categorize marriage proposals as that. The Wazobia listeners are just simple-minded folks. They are not nasty at all. Wazobia listeners are like a family. Our listeners take us very serious. Do you know we get seasonal gifts from our callers? Be it a Christian or Muslim celebration, we get presents of chickens or rams. They tap into us like the passion you see in football. There's this 'we' phrase. It has gone downstream, the market woman is now informed of what is happening in the nation because of how we read the news. WAZOBIA is a truly Nigerian brand and has become a phenomenon. It has brought back the days of RADIO NIGERIA. It has become so addictive, believe me I get callers telling me 'please Matse don't let me lose my job.' It sounds funny and incredible but it's the truth. It's been a beautiful experience.'
Philosophy of life
'I have no regrets in life. I just learn from my past mistakes. I see life as plenty of chances and opportunities for you to tap into. I am a very light and airy person and I want to enjoy the time I have now. I don't regret any action I've taken .You don't have to kill yourself for anything in this life. I believe everything is for a purpose for you to learn or benefit from. Just enjoy this short life on earth.'
Challenges
'None at all, its been a thoroughly wonderful experience. WAZOBIA has made me a much happier and confident person. I'm fulfiled. Once I end with Wazobia, I won't work with any radio station again. I never get tired doing the job.'
Personality
'Surprisingly, I'm an introvert. I just seem to transform and become someone else when I am on-air. I don't go to parties or events unless it is extremely important.'
Financial fulfilment
'Wazobia has been very rewarding. The fact is that when you master your game, it brings money. If go in to a shop and I probably get recognised, I get instant gifts and discounts.'
Ideal man
'I've always loved men that are intelligent. If you cannot sweep me off my feet with your intelligence, please don't come close to me. I pride intelligence in a man. I love handsome, tall men. You must be taller than me. I'm 5ft 9, so you must really be tall.'
Age and marriage
'I don't believe that because a lady is about or above 30years then she should settle for second best. I don't see age as an issue at all. First and foremost, people make a big mistake about age. Age should not be used to bring down women. I've met guys (and I don't mean your daily average guys) who actually prefer older women. Women who can think for themselves. Go for somebody you love, care and appreciate. I do not agree in second best. As for women, both young and old, the important thing is you should be the best of yourself.'
Guests on-air
'Being a very playful person naturally, my guests tend to feel relaxed when they are on-air. When introducing and describing them to my listeners, I do it playfully even to the miniscule details. In the case of maybe a musician, we produce a hilarious mock remix of their songs and it just blows them away. So for me it is just frank but funny talk and analysis, also lots and lots of jokes and laughter.'
Achievements
'I'm systematic in nature, I've achieved some while, and some I have not. There's no rush in life, I do have great plans. But I rather let things unfold and unravel itself. But one thing for sure is that it's going to amaze everybody.'

Matse
Advances
'Thankfully, this is not America where people will stalk and kill you. My listeners are nice so the advances come the same way. They want to take pictures with me. I do get a lot of gifts though.'
Evaluation
'It's been phenomenal. I have a huge fan base where I let them ask questions. I will not do any success evaluation. I'm just thankful of the women whose lives have changed because of me. People whose lives I have touched. I will just give thanks to God.'