I dress to repel men, Says Bimbo Okoya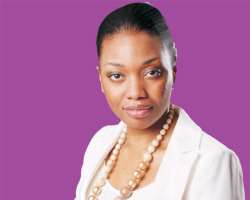 She could pass for a beauty queen, but Bimbo Okoya, the daughter of a business mogul and owner of Eleganzer Group of Companies, Alhaji Razaq Akanni Okoya, is one tough cookie who would not let her beauty get into her head but only socialises when necessary.
She's the Chief Executive officer of AOMS Marketing Solutions, a subsidiary of her father's vast business empire. A holder of Bachelors degree in Business Administration, she shares her experience as a marketing expert with Shwotime Celebrity. Enjoy it.
By OpeOluwani Akintayo
What's AOMS and what're you into?
AOMS is a Marketing Solution Outfit and we specialise on development. When I say development; I mean that we specialise in making Millennium Development Goals, NEEDS and other related development policies.
For instance, if we're targeting the press, we'll be targeting their corporate responsibility department . In all, we deal with departments that are responsible for giving back to the communities in which they operate.
In the public sector, we're targeting the education sector that deals with development in the rural areas and also the urban areas. We're creating awareness about bringing up initiatives and implementing them to better the lives of the people in their communities.
Do you mean that you're into training of marketing personnel?
We can still do that too. But what we do is help organisations on how to effectively carry out corporate responsibility programs or projects. But the main thing is using Marketing as a tool that leads to development in Nigeria and Africa.
Who are your clients?
The thing is that we have clients but I can't talk about them in order not to let out our plans. But I can talk about clients we've had in the past. We've worked with Oando on their Adopt_ A _School Project. We were involved right from the initiative stages up to the implementation stage.
How did you come about the Adopt _A _School Project?
It came up during a training related to a program me we had with the NYSC. What we did was to train a section of them so that when they go in for their CDS, they'll be able to sensitise the communities to embark on individual projects that can lead to development in those communities.
They help communities to come up with projects that they need and facilitate the implementation of those projects, instead of always waiting for the government to do everything for them.
How can you assess the overall purpose of the Adopt_A_School Project, was it successful?
All I can say is that; the Adopt_A_School program me which is now being called The Support_A_School Project by the Ministry of Education, is now something that only doesn't concern the government but also individuals and corporate organisations .
It has now been taken to the Nigerian Stock Exchange and other companies too. They get them to partner with schools within the communities, making it a community-government-company program me.
Because if you don't partner with the community which will be responsible for the care of the projects; the projects won't last long. What we do is to help companies come up with initiatives that'll last long. We use marketing as a tool to achieve this.
Are you also involved in the implementation of these initiatives that you come up with?
First of all, we carry out research on what projects are needed in a communities and the interest of the companies. Based on that, we can now device means through which the projects will be communicated to the companies. We then work together with the companies to see to the implementation of those projects.
What are your plans to make sure that people have access to your services?
What we do is to use the main media to reach people, especially with the popularity of the Website, people are dealing more with the global level. We believe in not limiting ourselves to just the people in our community. So, aside the modern media, we also use the traditional media such as the Press and brochure.
It's a fact that marketing companies make use of public relation as a tool to reaching people. What new thing are you bringing to differentiate your PR from theirs?
Public Relations is one of the main elements of marketing. The difference between our PR and those of other marketing outlets is that, we don't just use PR as a means of creating awareness, we also open the minds of our clients at a new, fresh, more effective ways of also creating awareness, which is also as effective as PR. We work with PR and other elements in creating awareness.
How many clients do you have in the company at present?
What's happening now is that, we have both multi_national and the individual clients. Aside the big clients, we also help those with small scale businesses to develop, also to find out the viability of a business for anybody who wants to newly establish a business.
We also render services to any company that wants to launch new products, to do something diversifying, lasting and positive, which is a good development and different from what other PR companies do.
How many staff do you have right now?
Right now, we have five key members of staff . We also have partners but I can't really say anything about them now. But we have partners that we work with.
How are you coping with the complexity of the Nigerian Situation?
First of all, one has to be passionate about what one is doing. Even when things are not happening the way I want it, I'm still happy and confident about what I'm doing. Sometimes, it's not everybody you see working that loves what he or she is doing.
But, when it's something you love to do, even when things are not working at first, you'll still persevere.
There's not just one road that leads to one's goal in life, there are multiple roads. What we do is to use multiple means in achieving our aims. But the main thing is to project our competence first.
How much of success can you say you've achieved?
Measuring success depends on the kind of goals you set for the company or for yourself. So, we're striving to reach where we are going because we focus on development.
But in terms of achieving our target on development, we're doing well in that. We've met with many companies that see the need to be more social and responsible to the communities in which they operate.
How did you come about marketing and what are your motivating factors?
I think I realised earlier that marketing is actually the way forward in development. I have the educational and professional background to go into marketing, so I'm grounded in marketing. But at the same time, leaving what I was trained in, into what I'm passionate about, development at different levels is what I'm passionate about.
That's why we're using marketing as a tool to promoting development. That's why I have both the educational and professional background to work with the EDIF on development. I also have my Masters in Corporate Governance and Responsibility. So, I'm not just doing it in a haphazard but professional manner.
Considering the nature of your job, have you ever been harassed by men?
Not really, it depends on how you present yourself. That's why I take my time to dress appropriately at all times. Let me make it clear that in Nigeria, there are different types of marketing. The type of marketing we do here is not the type where we have to walk around the streets. It's the type where we come up with different strategies that relate with business.
Do you have any regrets going into marketing?
I don't have any regret because that's what I chose to do. Like I said earlier, because I'm passionate about what I do, I still enjoy it even when things are not working the way I want. Regrets only come when I'm forced into doing what I don't want to do.
Do you do any sport?
I love swimming and horse riding, going for walks with friends, ice skating. Generally, I love to be up-and-doing.
What is your social life like?
Because of my kind of job, I have to be more social. Even if I'm not social in my personality because my kind of personality is more family and friends oriented. But when it comes to being professional, it means
I have to be more involved in social meetings where I'll have to relate with people most of the times. So, I specialise more on professional level and with family and friends.
You don't have earrings on. Is it also part of your personal outlook?
No. Not really. It's just that when I'm doing my job, I like to dress the way I feel and what the occasion demands. Sometimes I wear earrings, sometimes I don't.
Are you into any relationship?
Yes, I'm engaged.
Story by vanguardngr.com